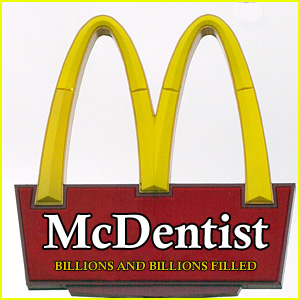 It's been a while since I've written!  Busy with life and uninspired.
Today I saw an emergency patient for a dentist-friend who is out of town.  She's a new patient for my friend.  A veneer (on #9) that was done in another office (before my friend) just two months ago, came out.  The office that placed it was what I call a "McDentist"…. a local multi-location corporate office that turns over staff regularly, including the dentists.  But, hey…. these McDentists take any and all dental plans.  Their waiting rooms are full, so "they must be good," right? 
So, they're always busy, churning patients through the chairs. Quality and attention to detail?  Bah!  Churn and burn, baby!
It tooth #9 (a single central veneer case), and she's leaving on an overseas trip Sunday.
Houston, we have a problem.
Here's the thing…  The veneer was done just two months ago (again, not by my friend and colleague).  The FIRST time it came out was the DAY AFTER it was placed.  Something is VERY wrong, if that happens.  She went back.  They recemented it.  It came out again.  She went back.  Rinse and repeat.  She finally gave up and called my friend (who has seen her husband as a patient for quite some time).
This was the FIFTH time it came out.  Continue reading →

Copyright protected by Digiprove © 2019 The Dental Warrior®