Many of you know that I've long been a "do-it-yourself" guy when it comes to website marketing for a long time (17 years).  Though I've been a DIY marketer, I have always been clear in my acknowledgement that it's not realistic for most dentists to do it all themselves.  In fact, I've largely advocated against it.  But, I've leveraged my own DIY experience as a way to advise dentists on how best to vet and utilize the services of marketing professionals.  Furthermore, as time has gone on, and my free time becoming more scarce, I have also used the services of dental marketing professionals.  If you consider the advent of Social Media, the burden of doing it all yourself becomes even more daunting.
Assisted Do-It-Yourself Marketing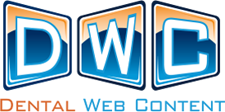 I've been using and testing a new dental marketing service for several months now.  It's called "Dental Web Content," brought to you by the marketing geniuses at New Patients Inc.  I would describe it as the perfect blend of DIY with professional help.
I have LONG preached that "Content Is King."  And, I'm sticking to my story.  Unique, compelling content will win the marketing day.  But, I've also learned that many dentists are not comfortable in creating all their own marketing content.
Dental Web Content is a HUGE library of tested customizable online and offline marketing pieces that include:
Videos – for use in social media (Youtube, Facebook, etc.) or on your website.
Brochures
Social media posts (Facebook) with copy and images.
Radio ad scripts.
Press releases.
Office forms – patient registration, health questionnaire, HIPAA, photo model release, etc.
Website landing pages – content for special, trackable destination pages on your website.
Mailers – both snail and email.
Print ads.
Billboards.
Post cards.
And "so much more!"  Really!
When I say "huge library," I really mean it.  It can actually be overwhelming if you try to take it all in at once.  I recommend doing it in bite-size pieces.  I've been at it for several months, and I've barely scratched the surface of this smorgasbord of marketing materials.  Continue reading →

Copyright protected by Digiprove © 2017 The Dental Warrior®