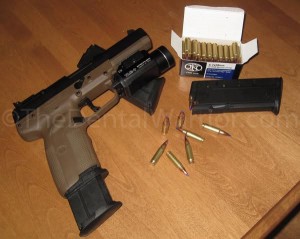 Say "whaaaaa?"
The title sounds counterintuitive, I know.  Indulge me for a moment.  Let's dissect the notion of a loaded gun being the safest gun.  It may not be as crazy as you think.
First, let's review Colonel Cooper's Four Rules of Safe Gun Handling (cut and pasted from another post):
All guns are always presumed loaded.  Even if they are not, treat them as if they are.
Never let the muzzle cover anything you are not willing to destroy.  (For those who insist that a particular gun is unloaded, see Rule 1.)
Keep your finger off the trigger until your sights are on the target.  This is the Golden Rule.
Identify your target, and what is behind it.  Never shoot at anything that you have not positively identified.
I thought it was unloaded!
Every so often in the news, we hear about an inaccurately-labeled "accidental discharge" of a firearm.  There are no "accidental discharges," only NEGLIGENT discharges.  Many of those who have experienced a negligent discharge have been known to say, "I thought it was unloaded."  And, THAT is the problem.  These folks treat the gun differently when they THINK it's unloaded.  And, then…. BANG!
See Rule #1!
But, even if they see Rule #1, some people think they know it's unloaded, so they relax.  What if they KNEW it WAS loaded?  Would they relax and play loose with the rules?  Would they point it at their friend?  Would they have their finger on the trigger (See Rule #3)?  Probably not.  I hope not.  But, when they THINK they "know" it's unloaded, the rules seem to matter less.  And, that's when bad things happen.  BANG!
One time, at the range…
When I'm at the indoor range, I always take a moment to periodically step back out of my booth to observe the other shooters.  I pretend to be taking a break…. crack my knuckles…  stretch.  Are they being safe?  Are they observing the Four Rules?  A couple of months ago, there were two guys sharing the booth next to me.  It appeared one was a local while the other was a visiting friend.  They were sharing a pistol.  Nothing wrong with that.  It's fun to share this sport.
The local guy had just finished firing at his target.  When he stopped, he turned around to chat with his friend.  The only problem was Continue reading →

Copyright protected by Digiprove © 2015 The Dental Warrior®