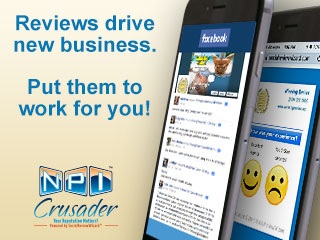 Several years ago, I wrote about the new trend of online reviews (2011).  I considered it a double-edged sword, at best, and I initially avoided getting involved in it.  As time went on, I realized the trend was here to stay and increasing in relevance (2012) to online marketing.  Hell, I was looking at reviews for restaurants and other businesses.  I'm using reviews to help make decisions as a consumer, myself!  How can I reconcile that with a reluctance to leverage reviews to help my own business?  It was impossible to deny the importance of online reputation.
Initially, my concern was the potential for bad reviews or even fraudulent reviews.  Naturally, this concern is shared by many dentists.  And, yes… it does happen.  However, it's rather rare, and people are wise to it.  First, the saying "you can't please everyone" is simply true.  What matters is a preponderance of good reviews.  Drown out the bad ones with good ones.  Consumers look, not only for the overall quality of reviews, but also consider the context and credibility of the bad reviews.
If you can't beat'em, join'em!
I decided to jump in.  I began by simply asking some of our patients to post reviews.  I put up a couple of signs around the office encouraging patients to post reviews.  I got business cards that had a QR code patients could scan on their smart phone and go right to my Google review page.  It worked… a little.  A got a trickle of reviews over a long period of time.
Help!  I need somebody.  Help!
The next step was to use a review generating service.  Many such services have popped up over recent years.  The idea is to Continue reading →

Copyright protected by Digiprove © 2017 The Dental Warrior®