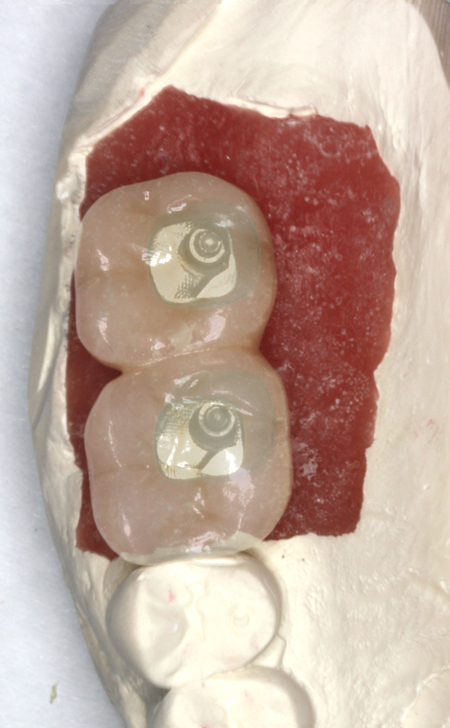 While screw-retained implant crowns are favored today, certain clinical situations dictate cemented crowns on custom abutments.  I won't be going into the different scenarios that favor screw-retained over cemented.  Nor will this article cover the advantages and disadvantages of each approach.  I'll assume you already know that… Or, you simply have your own preferences. 
I prefer screw-retained whenever possible.  But, sometimes it's not possible or practical.
This article describes a way to document where the screw access in the abutment is relative to the cemented crown restoration for future reference if needed.
Patient's got a screw loose?
Implant screws sometimes come loose.  Fortunately, I have seen none of mine… yet.  But, it could happen to any of us, eh?  I've had plenty of cemented implant crowns show up in my practice with a loose screw.  It's a vexing issue.  There are typically two options:
Cut off the crown and start over with a new restoration.


Cut a channel through the crown to the screw access and remove the abutment and crown as a single unit… to save the restoration.  Place a new screw, torque, and restore the new access with composite.
Where's the ****ing screw?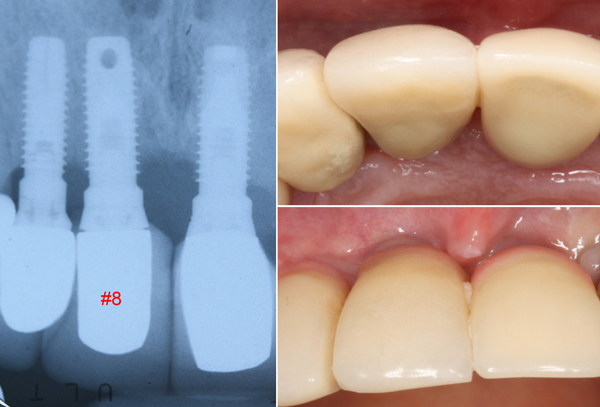 This patient presented with a loose implant crown (due to the abutment screw being loose).  Not mine.  Can we access the screw from the lingual?  Maybe.  Maybe not.  Often not with anterior cases.  Is it worth a shot?  Or just cut off the crown?  (Spoiler alert:  I was able to find the screw and access it from the lingual – close to the incisal edge.  Got lucky!)
When trying option #2 with another dentist's work, the reality is that you don't know where the screw access is located.  And, if it's your work, but you didn't document where the screw access is… You're blind, as well.  Unless you're Dr. Rain Man with an eidetic memory, and you have time before Wapner comes on at 4:00.
You've got the x-ray, of course.  But, that's 2-dimensional.  You've also got your eyeballs, and maybe you can visualize the angulation of the implant.  Hopefully, between the x-ray and your eyeballs, you can deduce where the screw access might be.
I've been very lucky and managed to "guess" correctly many times.  Of course, I advise the patient this is a "Hail Mary" and I may end up destroying the crown in the process.  So, far that hasn't happened. 
I will say that if you decide to attempt to access the screw through an existing crown, be ready to work hard.  Be ready with a new screw.  Be ready to charge a fee commensurate with the effort.  Be a good guesser, too!
Not MY cases!
So, assuming that it's possible for even one of MY cases to come loose, is there a way to document where that damned hole is under the crown for future reference?  Why, of course there is!  Ready?
It's quite simple, really.  It's a matter of taking two photos of the case on the model before you deliver it.  The key is to take the photos from the same distance and angle.  Ideally, this would be done with a tripod camera mount and some sort of vise or clamp to hold the model steady.
In this recent case (last week), I just had my assistant hold the model on the table, so it wouldn't move.
First, take a photo of the abutments on the model straight on from the occlusal. 
Then, without moving the model or moving myself or the camera, I have my assistant drop the crown(s) on to the abutment(s).  Then take another photo.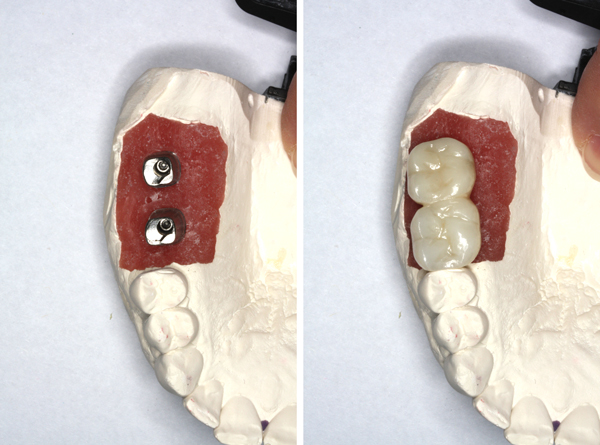 Now comes the magic, courtesy of Photoshop.  I'm sure it could be done in other photo editing software, as well.  I super-impose one photo over the other and adjust the transparency.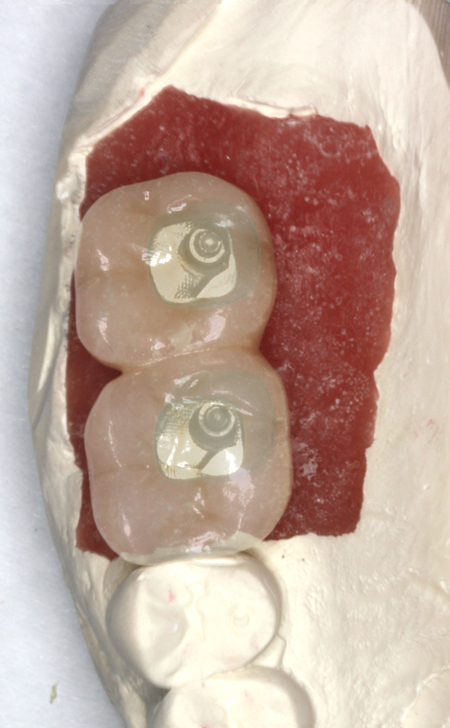 How cool is that?  So, how do we actually do it?  See video below!
If you have a different photo editing software, you should be able to figure it out based on this technique. Wouldn't it be nice to have this as a reference, should it be needed?
Consider that it's possible your patient may eventually see another dentist.  I've heard it happens!  And, just maybe a screw from one of your cemented cases will come loose years later.  Print a copy and give it to your patient for "safe keeping."
What do you think?  Is this something you'd find useful?  Comment below!
(Edit to add:)  If you carefully compose the two photos (same angle and distance), you could probably just stack the prints and hold them up to the light!  Low-tech!  😀