Veneers don't last!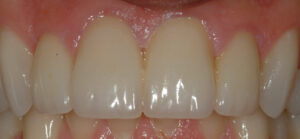 Over the years, I've encountered colleagues that claim veneers are doomed to fail…. Or, that they are less predictable than crowns.  "Veneers pop off."  "Veneers break," they say.
Baloney!
I've been fortunate to have practiced for almost 33 years (so far), 27 years in one place.  I've also been fortunate enough to have a number of patients who have been in my practice for a long time.  As such, I've had the opportunity to observe the longevity of my own work… for better or worse! 
When patients move away, we can at least claim "geographic success!"  If your cases move away, they haven't failed… as far as you know.  Some of mine have stuck around.
How long do veneers last?
My first 2 veneer cases, done 22 years ago, are still in recall in my practice.  Both cases are intact.  Another of my early cases, done 17 years ago, was in hygiene recall today, and I finally remembered to grab my camera for some follow-up photos!  When the others return, I'll try to remember to take photos and add them here.
Today's 17 year old recall case was just four units… #7 – 10.  The laterals are veneers, and the centrals are crowns.  But, before we show the follow-up photos, let's look at where we started and what we did 17 years ago.
The patient didn't like his smile.  He didn't like the single crown on #8.  He didn't like the rotations of the "bucky" teeth.  Orthodontic treatment was rejected.  We agreed to treat the four upper anterior teeth restoratively.
Before:
After:
Before & after:
Today:
Sure… the porcelain has lost some of its sheen / glaze. 
The patient and I chatted about the case, and I advised him we did this 17 years ago.  He was astounded and told me how happy he is with the result.  He said, "Outstanding!  The roofs on some houses don't last that long!"
There is no sign at all of microleakage.  None of these restorations has debonded in 17 years.  No fractures, either. 
The key to longevity?  Meticulous attention to detail in every step of the process.
Building a reputation for quality work takes MANY years.  It's a marathon, not a sprint.  But, it's gratifying to see these cases holding up.  I told this patient we'd be taking photos again in another 17 years!
Post your thoughts and experiences in the comment section below!