I haven't written about this subject in a while.  I'm sure I'll get some unsubscribe notifications.  I don't care.  This is important shit.
There was a murder-suicide only a few miles from my home at a grocery store two days ago.  I was in that grocery store just a few days before.  This "hits close to home," literally.
A grandmother and her 2 year old grandchild were murdered.  Then the perp killed himself.  At first glance, it would seem like a "domestic" incident.  As disturbing as domestic violence is, it wasn't the case here.  More disturbingly, the perp had no connection to the victims.  It was random.
It's one thing (in our own minds) when it's a "domestic" act.  "That's not me.  Not my family.  We don't have that problem."  But, this deranged animal intentionally murdered strangers before taking himself out.  That means, "It could happen to me."  I was just there, in that store.
Violence is predictable.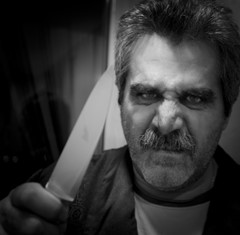 It turns out, this suicidal sociopath posted on Facebook that he wanted to "kill people and children."  It turns out, people that knew him, knew "something was wrong."  His ex-wife said he had been "acting strangely."  Nothing was said or done.  Again. 
(Update:  The perp's ex-sister-in-law claims his ex-wife went to police previously with concerns about him, and nothing came of it.  The police have not responded to media questions about that.)
In 100% of these public murders, someone knew the fucker who did it.  And, they knew something wasn't right with him.  They saw it coming but said nothing until after the fact.  There are "tells" every goddamned time.
Something ain't right here.
One of the things that was reported by the news was that he entered the grocery store using a golf putter as a cane.  It seems a bit odd, but on the surface would be considered harmless and non-suspicious to the average observer.  Most wouldn't give it a second glance.  Right?
Here's the thing.  I've studied violent crime (and armed self-defense) extensively.  (I'll post my reading list below.)  That may seem weird, but I take my personal safety and that of my family very seriously.  The best way to avoid violence is to see it coming and not be there when it happens.
In Gavin DeBecker's book, "The Gift of Fear" (link in reading list below), he talks about "PINs" or "pre-incident indicators."  The signs are ALWAYS there.  Always.
Something that ALL the experts advise is to TRUST YOUR INSTINCTS.  If something seems even a "bit off," PAY ATTENTION.  How many other NORMAL people have you seen using a golf putter as a cane, NOT on a GOLF COURSE??  Sure, it might be a harmless affectation.  Hopefully, that's the case.  Pay attention anyway.
The grocery store video surveillance also revealed the sociopath watching his victims before he attacked.  It takes a special kind of EVIL to murder a child.
If you see someone acting strangely, or something is out of place… PAY ATTENTION.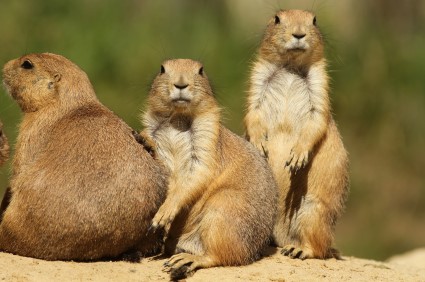 If you notice you're "running into" the same stranger (or maybe not a stranger!) over and over in the grocery store… pay attention.
Is someone eyeballing you more than would seem normal?  Pay attention.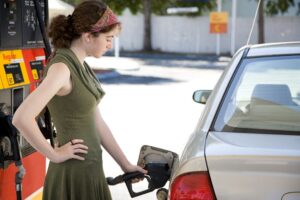 Are someone's movements paralleling yours?  In the mall?  In the store?  In the parking lot?  PAY ATTENTION.  Is a dude (or dudes) just standing outside next to a car near your car?  Why would anyone just stand around in a parking lot?  Pay attention.  Is someone walking purposefully towards you?  Don't bury your head in the back of the minivan as you load your groceries.  Don't stare at the gas pump.  Don't look at your phone.  Pay attention!
Fuck political correctness.  Fuck being "woke" and "tolerant." 
Profile the shit out of anyone acting strangely.  Even just a little bit strangely.  It may save your life.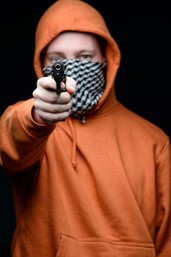 Trust your inner caveman.  If something is off, watch it!  There's no harm in changing directions and walking back to the store from the parking lot.  Feel like you're being followed down a sidewalk?  MOVE!  Speed is life!  Cross the street.  Duck into a store. 
If you're in a grocery store or other retail establishment and hear shots (like this situation), consider an alternative exit for your "GTFO."  In a grocery store, there will likely be a log-jam at the front exit, and you may be more likely to encounter the perp (and possibly accomplices).  There is always a back exit (through the warehouse or delivery area).  That would be my first choice.  Same goes for a restaurant.  Head for the kitchen and go out the back door.
There's nothing wrong with heading up to the customer service desk if you think you're being tailed inside a store.  There's nothing wrong with turning around and waiting it out.  When in doubt, GTFO (get the fuck out)!  Drop your shit and MOVE.  If it turns out it was "nothing," ignore your embarrassment.  And tell anyone who ridicules you to fuck off.
Pay attention to the little things that "don't seem right."  Like a golf putter being used as a cane.  Like someone dressed in a trench coat in or wearing a hoodie over the head in the middle of summer.  Or his hands are buried in the pockets of the hoodie, even though it's 90 degrees outside.  Maybe it's harmless.  Pay attention anyway.
Be prepared!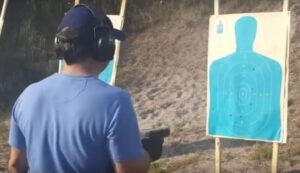 The chances of a head-on collision in my car are statistically miniscule.  But, I wear a seat belt 100% of the time.  The chances of a fire in my home or office are tiny.  But, I have fire extinguishers at the ready. 
In my entire 40 years of firearms ownership and 27 years of license to carry concealed, I've never "needed a gun."  But, it has been said, "A gentleman rarely ever needs a gun.  But, when he does, he usually needs it very badly." 
Arming yourself is a very personal decision.  Your mileage may vary.  If you do, get some training.
Here's my reading list (with links)
Yes, I've actually read all of them.
Oh!  One more book!  If you are already armed for self-defense or are considering it (at home or outside the home), you MUST get this book and read it.  Then read it again.  Know it COLD.
Stay safe, my friends!

Copyright protected by Digiprove © 2021 The Dental Warrior®