I was discussing the current situation with COVID hysteria, (unconstitutional) rules, and social implications with my wife at lunch.  And a nuclear analogy sprung to mind for me….
We have reached a critical mass of willful ignorance and suspension of critical thought.  The disinformation campaign aimed at controlling EVERY SINGLE aspect of society has reached a critical mass that it has become a self-perpetuating chain reaction.  What we have is "fissionable fear and willful ignorance" resulting in mass compliance with even the most ridiculous new rules over essential and routine evolutions and the minutiae, as well.
It's the "new normal," they mindlessly explain (to themselves).
Cover your face.  Not once, but twice!  Don't go to church.  Don't sing out loud.  Don't see your family, even if they're dying.  Don't see your children or grandchildren.  Don't even cheer for your favorite football team inside your own home – Use a noisemaker or stomp your feet, instead.  No shit.  That came from the CDC.  This is real.  And, it's being accepted by people because we've reached that critical mass I referred to earlier.
Did you get the vaccine?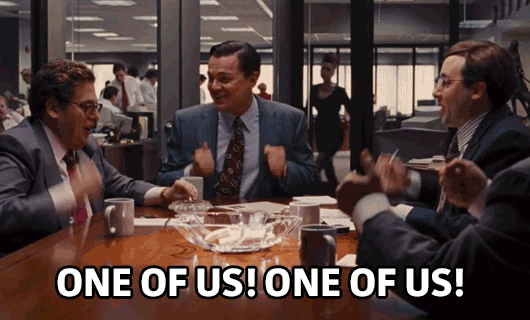 Rather than a health issue, following the "rules" is a matter of SOCIAL COMPLIANCE.  When someone asks me if I've had or will get the "vaccine," they aren't asking for health reasons.  They are determining whether I'm being socially compliant.  Am I "one of us" or "one of them?"  Nobody would ask you if you got a Pap smear or a prostate exam.  Nobody would ask you if you've been tested for STDs or tuberculosis in normal conversation.  Under any other context, asking someone about their medical history is considered grossly inappropriate. 
But, not this.  Because this ISN'T medical.  This is cultural.  It's a social LITMUS TEST.
Social implications killing relationships with Cancel Culture.
Already, I've lost friends and family, not to the disease (COVID), but rather to my failure to blindly comply with the new  social norms.  By DARING to question the status quo and the "conventional wisdom," I have become a social pariah.  No exaggeration.  By daring to do my OWN research and daring to quote ACTUAL science from recognized peer reviewed medical journals (rather than CNN, Fox News, a power-hungry politician, or agenda-driven media), I am deemed a menace to society by the estimation of the masses… by my own family and friends (most of whom are quite intelligent).  Really. 
Because I refuse to "afraid" (fashioning the word as a verb) to the degree they are themselves, they take it as an insult and a threat.  Fear is the new virtue signal.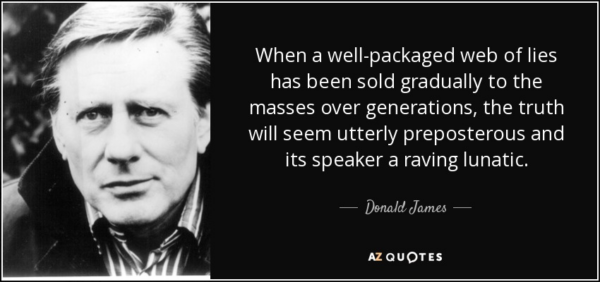 I can identify with the quote by British author, Donald James.  The only difference is that today now it doesn't take generations.  It takes mere hours via massive repetition on social media.  The sheeple vacuously regurgitate the narrative they've been fed.  They've heard it so many times, they assume it's true and refuse to vet the facts for themselves.  REFUSE to do it!
We have become comfortably numb.
Any time I bring up evidence… REAL evidence… contradictory to the narrative that has been so readily swallowed, I get the most remarkable looks and reactions.  It's one of two reactions.  One is akin to your dog's expression when you fart.  A cock of the head and raised eyebrows.  The other is a wrinkled forehead and haughty contempt.
Not once.  NOT ONCE, has a single one of them agreed to read the cited studies published in peer reviewed journals.  Nobody likes to find out they've been fooled.   People do not like to have their long-held world view refuted before their very own eyes.  The cognitive dissonance is too painful, and they'd rather remain blissfully and comfortably ignorant.
You can't stop a chain reaction.
No amount of logic or facts will interrupt the emotional chain reaction that is now in play.  Just like a nuclear meltdown at a negligently run power plant, there is no stopping the cultural meltdown that is happening before our eyes.  Hysteria has reached critical mass. 
It's EASIER to go along to get along.  Our culture has adopted a new "social norm" of apathy and blind acceptance of the "rules" handed down from on high.  If you don't have control over your life (by letting others control it), you are no longer accountable for your lot in life.  "It's not my fault."  "It's out of my control."  Yeah… because you allowed it to be that way.  It's un-American.  It's killing the human spirit of independence, self-reliance, and our social fabric.
It's not the government or media that is causing this runaway train.  It's the PEOPLE.  The people have allowed it to happen and are complicit in its perpetuation.
Blind compliance is killing businesses.
People now proudly brag… BRAG about how long it's been since they've been to a restaurant or gone out anywhere.  The same people pretend to lament, "It's terrible that restaurants and other small businesses are shutting their doors permanently."  They have no clue.
When I tell people I eat in (mostly empty) restaurants for lunch every work day, their mouths are agape.  "You mean you sit down inside of restaurants?!?!?"   These are the same people that go to the real cesspools that are Walmart and the grocery store.