This will be a short blog post.
Today, a long-time patient was in the chair for a crown delivery.  None of these photos are of this particular case.
As is usually the case, the crown dropped in with perfect contacts… and a tiny bit of occlusal adjustment.  The patient was satisfied with the esthetics and gave the nod to cement it.
After cementation and clean-up, I sat the patient up and asked her to make sure it still feels good. (Some patients' occlusion changes when I sit them up after adjusting in while supine in the chair.)
She confirmed it felt good and then said:
"Your crowns are not cheap.  (They aren't!)  But, they are always very good.  At previous dentists, my crowns were always difficult and needed a lot of adjustments.  Your temporary crowns always stay in – this one was in for 6 weeks.  And, your crowns always fit without adjustments."
I was wearing a mask, so she couldn't see me grinning.
This wasn't the first time someone prefaced their compliment by mentioning my fees being relatively high.  And, I love it.  I'm not ashamed of my high fees.  I'm proud of them.  I know what my services are worth.
We had a little conversation, and I mentioned that I work with a great lab (which is not cheap, either).  I went on that attention to every detail adds up to great results.  From the tooth preparation to the impression to the temporary. 
A lot of little things add up to a big thing.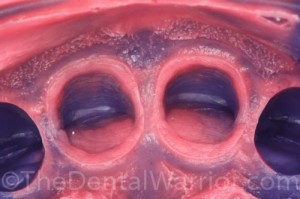 When it comes to what I send the lab… "garbage in gets you garbage out."  I always try to send the best possible impression with clear margins.  The lab can only give you as good as you give them.  But, I trim the die(s) for every case under a lab microscope, as well.  Yep… sure do.  Call me crazy.  I also make the temps.
Many dentists proudly proclaim (when asked), "My fees are average for the area."  There's certainly nothing wrong with that.  But, I submit there's an implied or subliminal message, "My dentistry is average for the area." Or, "I'm just like all the other dentists."
You're all the same!  Right?
A lot of the public is under the impression that a dentist is a dentist is a dentist.  And, a crown is a crown is a crown.  But, there are some that know the difference and notice the different levels of service.  Ultimately, it's about where you feel comfortable in the spectrum of dentistry.
My patient's comment made my day.  Basically, she said, "You're expensive, but you're worth it."  It doesn't get better than that.