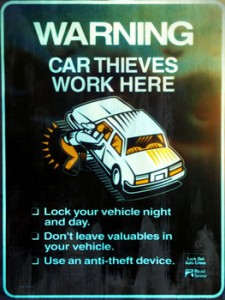 This post was inspired by a friend who recently told a story on Facebook about finding burglars trying to break into her family's cars at 4:00 am.  She and her husband went outside (both armed) to investigate.  But, by the time they came out, the car alarms had apparently scared off the bad guys.  And, that's a good outcome.  But, it could have gone a number of ways… some possibly very bad.
When you take on the responsibility of your own security / safety by arming yourself, besides the technical training and practice and knowledge of your state's laws…. It can be useful to mentally run scenarios in your head.  You should also discuss these scenarios with your spouse or housemates.
In this scenario, you are alerted that someone is trying to break into or steal your car.  How you react can have a cascade of effects.  It's worth considering these possibilities BEFORE you encounter these situations.  Let's do some mental "walk-throughs" of this case together: 
Should I stay, or should I go?
Now… in a legitimate case of being attacked by a criminal bent on causing you grievous bodily harm, those possible negative consequences are better than being dead.  The old saying applies, "Better to be judged by twelve than carried by six."  But, in the case of protecting your PROPERTY, one should / must consider whether it's worth those consequences.  I'm fairly confident that most of us would agree that our property is not worth those possible outcomes.  Borrowing (modifying slightly) from "The Clash"…
Should I stay or should I go now?
Should I stay or should I go now?
If I stay, there will be trouble.
An' if I fight, it might be double.
So come on and let me know…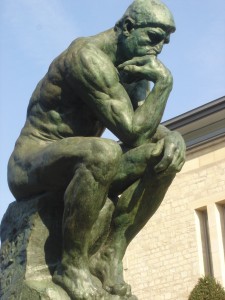 If you decide to arm yourself, something I advocate, you should mentally rehearse the when, where, how, and why of lethal force and self-defense.  I have previously suggested that the best way to win a fight is to not be in it.  Avoidance is an excellent strategy that results in the best outcome.  Arming yourself levels the field when physically attacked and facing a disparity of force.  But, it should also elevate your understanding of all the possible consequences.  Of course, you should be familiar with your state's laws.  No…. more than familiar.  You should know them COLD.  In most states, lethal force in the defense of property is not legally authorized.  Even if you're not armed, have you thought about these possible encounters?
This indecision's buggin' me…
Try this exercise:  What would I do if _________?  How you fill that blank is limited only by your imagination.  It could be:
I'm caught in the middle of a riot and the mob is banging on my car (or breaking the windows with a hammer).
I catch someone breaking into my car parked outside my home.
I walk into my home to find a burglar inside.
I'm in a club / concert / crowded venue, and an armed man (or men) enters firing randomly.
I'm at a restaurant with my family, and a masked man bursts in with a gun demanding that everyone turn over their valuables.
I'm walking down the street and suddenly three unarmed bad guys appear from out of nowhere, demanding my cell phone and wallet.  They appear to be teenagers.
I'm walking down the street and a drunk guy bumps into me, becomes enraged and challenges me to fight him.
I'm in my dental office (or other business) and an employee's estranged boyfriend barges in carrying a gun demanding to see her.
I'm in my dental office (or other business) and a patient / client is screaming at the front desk about a refund, threatening to kick everyone's ass.  He has a tire iron.
I'm at home at 11:30 pm watching the Tonight Show, and someone starts banging on the door screaming "I know you're in there, Jennifer!"
I'm at home at 11:30 pm watching the Tonight Show, and a stranger kicks down the front door and comes barging into the house.
I'm asleep and I hear the door come crashing down.  The sounds of footsteps in the living room follow.  Some possible sub-scenarios:  1.  It's just me and my wife in the master bedroom.  2.  I have children whose bedrooms are next to mine on the 2nd floor.  3.  I live on a single level floor plan and my kids are in their rooms on the other side of the house.
I'm at a party, and there's this dude.  Something ain't right.
Just a few to get you thinking.  🙂  I'm sure you can come up with more.   What would you do?  What should you do?  What COULD you do?  What are your options?  Do some creative thinking.  What are the possible outcomes… physical…  legal…  financial…  psychological…  social?  Think about it.  What is being threatened?  Property?  Or life?  Consider that threats aren't necessarily criminals.  It could be a natural disaster or accident.  How do you get out alive?
Stay safe my fellow Dental Warriors!

Copyright protected by Digiprove © 2016-2017 The Dental Warrior®