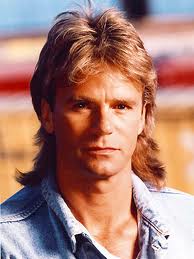 After nearly 25 years in Dentistry, I've learned that "herodontics" is often an exercise in futility.  But, one of the things I love about being a dentist is the creative problem-solving aspect.  My assistant has called me "McGyver" for many years.
Today's patient is a 28 y.o. woman.  She has a number of problems stemming from neglect and procrastination.  Money is not an issue.  She came to my office for a comprehensive examination and treatment plan.  Her top priority was a tooth (#5) that was "broken."  Her biggest concern was that she'd end up with a "hole in her smile."  Case photos and technique after the jump… 
Tooth #5 was severely compromised.  The only thing left standing was the wisp of a facial cusp.  Treatment options included extraction and an implant vs. saving the tooth.  She preferred to save it, if possible.  The question was:  Is it possible?  Is it savable?  The x-ray images were not conclusive in that regard.  Well, I'm sure some would argue that the tooth is unrestorable based on the x-ray alone.  The only way to be sure was to get a good look at it by cleaning it up.  She was OK with an "exploratory" approach.
I placed an Optragate retractor for easy access and limited isolation.  I used a diode laser (Picasso Lite) to clean up the hyperplastic tissue on the palatal side.  I was surprised to find fairly solid tooth structure hiding under there.  The pulp was exposed without me even touching the tooth.  But surprisingly, it was still vital!  At this point, I explained to the patient that I thought we could save the tooth, while I could not guarantee any long-term results.  She was fine with that.
I cleaned up the tooth and the canal orifices.  There was no way to clamp the tooth for a rubber dam.  So, it was "McGyver time!"  With the Optragate still in place, I did some initial instrumentation and shaping of the canals.  (Edit:  I did that using ONLY rotary files connected to a handpiece.)  Then I temporarily placed a couple of gutta percha points in the canals and filled the rest of the "chamber" with cotton.  This was followed by placing a core build-up around the gutta percha.
Now I could place a rubber dam and have the canal system isolated from any contamination.  I removed the gutta percha and cotton and had perfect access to the canals.
Now I can place a rubber dam and proceed with endodontic treatment!
I got as far as instrumenting to the apex with hand files to a #20 file.  At this point, the patient had enough, and I was pretty tired, myself!  I dried the canals, placed a dry cotton pellet and Cavit temp.  My patient was happy to get a break and made an appointment to continue treatment.
And, that's how I spent my morning!  🙂  Now… should I grow a "mullet?"
Update:  Here is a pic of the prep.  (Sorry the image isn't well-focused.)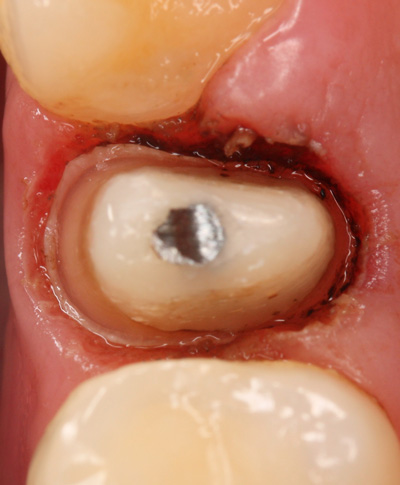 UPDATE #2:  Here's a pic of the prep the day we delivered the crown.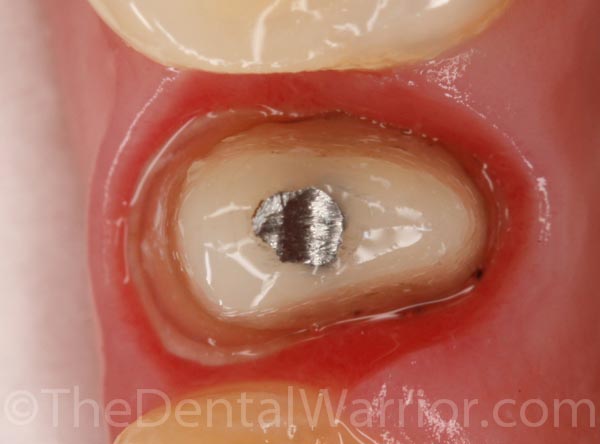 I'll post a post-op photo of the final restoration when I see the patient back.  Oh… by the way, this is the case I was working on (finishing the endo) while I was being filmed by CNBC for their one-hour special on the AR-15.

Copyright protected by Digiprove © 2013 The Dental Warrior®