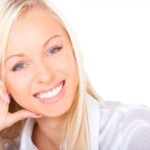 If it wasn't for my website, I'd be living under a bridge!  Many of you have heard me make this comment before.  While it's a bit of an exaggeration, my point is that my dental practice website is the lifeblood of my practice.  On the other hand, I OFTEN hear from dentists about how their websites don't do anything for them.  How can there be such a disparity of experiences?  The answer is far too complex to address in a single blog post.  But, today I was compelled and inspired to point out a particular factor in this post.
To kick this off, I present the prima facie evidence:
If you've visited even just a few dentists' websites, there's a good chance you've seen one of these women featured, usually on the home page.  I've lost count how many times I've found them on dental websites, especially the blond on the right.  She's EVERYWHERE.  Arguably they are attractive and have beautiful smiles.  So, seemingly they would be appropriate images for a dentist's website.
Here's my point of contention.  They are stock photos.  That means they are "store-bought" photos.  It's a common practice to use stock photography in all sorts of marketing pieces and advertisements.  It's easy.  And, it's cheap.  And, it some cases, they are probably effective or simply harmless filler.  However… HOWEVER… in the case of dental practice websites, I submit that it's a really BAD idea.
Credibility Rules!
A primary goal of a dental practice website is to build credibility and trust.  You try to present reasons a website visitor should choose YOU as their dentist.  Why should he or she choose your practice over all the others?  With Google, a web searcher can access countless dental practice websites.  And, he or she will make comparisons.  Sadly, like in every Yellow Pages book, most dentists' websites are nearly identical in content.  Very few offer unique and credible content.
You can bet that prospective patients, especially those who are seeking extensive care (major treatment), are doing their homework.  I recently had a smile makeover patient (who found me via my website) tell me, "I looked at at least fifteen dentist websites, and it seemed like all of them are treating the same woman." I wonder if she saw "Blondy"?  😉  My patient went on to remark about the photos on my website and how they created credibility.  She also specifically referred to how each smile I created was unique to each patient.  "They don't all have the same smile."

It's all about CREDIBILITY, my fellow Dental Warriors.  Is your website filled with stock photos and canned encyclopedic dental definitions like, "What is a veneer?"  I will write a future blog post about copywriting – that is writing compelling content for your website.  It has long been my contention that creating your OWN content is CRITICAL.  And, in this blog post, the emphasis is on photography.  I won't get into photographic technique… that's another blog, too!  My point is to use UNIQUE images.  You don't even have to be the photographer.  You can hire one.  But, please stop using the same stock photos everyone else is using.
Today's Consumers Are Smart!
On many dentists' websites, I've seen the same stock "Before & After" photos!  Don't think visitors to your website won't figure this out.  Many of my patients have told me they have.
People searching for a dentist on the web WILL notice stock vs. unique images.  And, using photos of your own patients is the ultimate way of building credibility and trust.  Seeing is believing! If you really are a "cosmetic dentist," then surely you can prove it, right?
Feel free to visit my own website (www.PalmBeach-Smiles.com) to see how I've incorporated photography.  Every single photo is my own.  And, that carries a lot of weight with visitors on my website.  And, the feedback I've gotten from patients confirms it.
If your website is a carbon copy of so many other websites, you are wasting your time and money, in my opinion.  You'll get out of it, what you put into it.  And, simply writing a check to a website company to create a canned, pre-fab website will get you nowhere.  You must be involved in creating content.  And, using your own photos can be very powerful.
Get cracking, Dental Warriors!  And, then reap the rewards!
PS… Stay tuned for future blog posts about clinical and fashion photography.

Copyright protected by Digiprove © 2013 The Dental Warrior®