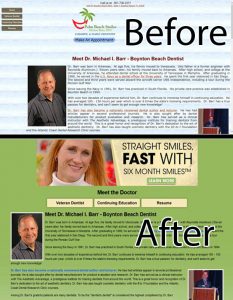 This article is a bit long.  However, I urge you to read it.  Today, your website represents your practice to the world.  Accordingly, the decision to have a website and choosing the right marketing firm to help you create it is CRITICAL.  Educate yourself and choose wisely.
In 1999, I created my own dental practice website.  I mean I did ALL of it.  A total do-it-yourself project.  I was an "early adopter" in that very few dentists had websites at the time.  Initially, my intent was to create an "online brochure" to which I could refer my existing patients in order for them to learn more about my cosmetic dental services.  At the time, the notion of people actively seeking (searching) a new dentist online seemed far-fetched.  And, in reality, nobody was.
Eighteen years later, and that's all changed now, as our culture searches for EVERYTHING on the web.  "Google" is now a verb.  We "Google" anything we need to know or find.
This is the story of how I went from a DIY website marketer to finally delegating a complete website makeover to the experts.
To 2000 and Beyond!
In 1999, I bought a website design app called, "FrontPage 2000."  Oooh!  2000!  High-tech stuff, baby!  It was the "gold standard" at the time.  I bought the "FrontPage 2000 for Dummies" book, and I went to work on the 4th of July holiday weekend (1999).  The first published iteration of my site was seven pages.  Over the years, I added to it on a regular basis.  It has since grown to FIFTY-FIVE pages.  I wrote every word.  I took every photo.  There are no "store-bought" stock photos, nor is any of the copy (text content) …. copied.  It's all mine… original.  Every single word (and photo).
I learned all about "SEO" (search engine optimization).  I read a stack of books taller than me.  And, I optimized the crap out of my site.  And, it worked!  I was at or near the top of Google search results.
I read books about SEO.  I read books about online AND offline Marketing.  I read books about copywriting.  I absorbed so much information, I ended up writing a book of my own:
The Complete Website Owner's Manual for Dentists!   About a year ago, I updated the book.  The concepts still apply and serve any dentist (who is hiring a website designer) very well.  If you're buying an engagement diamond, you don't need to cut the stone yourself.  But, you should know the "Four Cs."
Content is still KING!
I have long been, and remain, a staunch advocate of the concept, "Content is King."  This blog is full of articles about the importance of ORIGINAL, UNIQUE content.  I believe that compelling, ORIGINAL, self-created content RESONATES with website visitors.  Your website content should be congruent with the character of your practice and your own personality.  Think, "AUTHENTICITY."  Generic, encyclopedic content created by a third party who has never set foot in your practice cannot achieve that same emotional connection.
I also realize that not every dentist is a "born-writer."  But, you DO talk to patients every day, right?  You know how to communicate with people about dentistry.  You can at least help create the content for your website.   Jot down your ideas and get someone to help you flesh it out or edit as needed.  Even if you start with stock content provided by the website designer, you can edit and change it over time.  Give it your own spin.
To be clear, I am not suggesting you build your own website.  But, I do believe that the content is best when it's created by the people IN the practice.  Of course, you can also ask for help.  Keep reading.  😀
Your Site Is So Retro, Dude!
In 2017, the appearance and functionality of my old website was arguably "dated."  Hell…  we could have said that TEN years ago!  😳  While I continue to preach that Content Is King, the packaging counts, as well.  My site was the online equivalent of a nice house with shag carpet, wood paneling, and one of those dial thermostats.  Furthermore, my site had dropped in search engine rankings.  More importantly, I wasn't getting as many new patients from it as I used to.
But, like it is for many of us… life gets in the way.  I haven't kept up with coding of websites, which has changed a fair bit.  Websites are far more sophisticated than they were in 1999.  They have to be "responsive," so they format correctly for a variety of mobile devices, for example.  I'm a busy guy, running a dental practice, with a busy and complicated family life, too.  I just didn't have it in me to re-educate myself and take on the rather Herculean task of revamping a 55-page website.
Who Ya Gonna Call?  NPI!
I've known Howie Horrocks and Mark Dilatush of New Patients Inc for some 20 years…  at least!  I've attended their seminars multiple times.  I've read all their books.  I've used them for various marketing projects over the years, including the doctor videos on my old site and building a stand-alone mobile site (back before responsive sites were the thing).
In my opinion, they are THE "go-to" guys for dental marketing.  They should do a cable TV show called, "Marketing Busters!"  Like Jamie and Adam of "Myth Busters," they apply the scientific method to their efforts.  Test and measure.  Test and measure.  New Patients Inc has DECADES of marketing pieces and data in their files.  They know what works.  And, perhaps more importantly, they know what DOESN'T work.
Ready?  Aim… Aim… Aim….
When you've created your own successful website and spent 18 years tweaking it, it's tough to turn over the reins.  I had thought and talked about doing this for years.  YEARS!  Yeah… when you become the "expert," it's tough to delegate an important project like this.  Control freak, perhaps?  😆   So, when I finally decided to do something about my website, New Patients Inc (NPI) was the first and only phone call I made.  They are the uber-experts I have always turned to in the past, so I knew it was the right call.
A guy like me can either be a "dream client" or a "nightmare client."  I know too much… or maybe (nowadays) not enough!  I was admittedly nervous about delegating this, but I also knew I was never going to do it myself.  I had some concerns:
Would they be able to satisfy my expectations for a website that kicks ass?  Esthetically and functionally?
Would I lose SEO ranking?  Or, would I make gains in the SEO race?  Would Google treat my site as a completely new site, starting from scratch, so to speak?  Or, would we be able to leverage the success I had already established and take it even further?
Would NPI be able to keep the file names and meta tags that have been indexed by search engines and have worked well over the years?  Is that important?
Would NPI be able to organize all 55 pages, keeping the massive amount of content I've created and packaging it into an attractive easy-to-navigate site?
How will it look on mobile devices?  Will it format well on tablets and phones?
How will it integrate with social media?  Is that important?
Will I see an improvement in website performance?  Better search engine results?
Will I see an increase in new patients?
But, I knew I was in good hands.  Of course, I was!  So, we were off to the races!  I was very excited.  The website design team and coding team contacted me as needed for questions or to request certain items.  The design team created some initial conceptual home pages to let me pick an overall design and color scheme.  Once I made my choice, they went to work designing every page in the site.  Upon completion, they published all those pages, as static images, to a private online site for me to peruse and provide feedback.  Think of these as "proofs."  I could provide the feedback on every single page, as necessary.  Very easy!
Green Flag!  Code!  Code!  Code!
Once we got the design sorted out and approved, it went to the coding team.  That's where they turn the design into something that can be used as a functional website.  That means adding in navigation, active links, working buttons, etc.  The folks at NPI told me this was the largest website they had ever done.  It took several weeks to code it.  Remember, all the content was already there!  As it turns out, not surprisingly, the wait was worth it!
As we got close to completion on the coding of the site, we began the process of turning over control of my domain to NPI.  Wresting it from the company hosting it for the past 18 years was made much easier with the experts at NPI.  Generally, hosting companies don't like to make it easy.  It took some effort, but we got it done.  The reason for giving NPI total access and control is that they are taking over the SEO and all other administrative aspects of the website.  I'm delegating!  😀  And, it will make everything much easier down the line.
I want to emphasize that I am still the owner of the website.  NPI does not own it and won't hold it hostage like some other firms have been known to do.  This is specified in the contract.
We're Live!
The day I had anxiously been waiting for finally came.  The new website was up!  It was like moving into a new house.  Very exciting.  My website is the centerpiece of all my marketing efforts.  It's the destination that any other marketing pieces should point to, whether it's online (like Facebook ads), or offline print, TV, or radio ads.  My website is on my business cards, my street sign, and even my car's license plate frame.  Social media posts also point to my website.  Social media integration isn't new anymore.  It's nearly assumed these days.
My new website met and exceeded my expectations.  Having built multiple websites myself, I knew this was going to be an exceptional challenge.  A fifty-five page dental website that was intuitive, easy to navigate, informative, and compelling (visitors to take action) is a tall order.  But, NPI crushed it!
It's all about SERP ranking these days.
SERPs = Search Engine Results Pages.  When a person searches for "cosmetic dentist my town," the pages of results are known as the SERPs.  Where you rank (ideally at or near the top of the first page) can have a significant effect on the number of visitors to your site… and ultimately patients in your chairs.
We kept my original website address (aka "url" or "domain name"), which has a long history (since 1999).  Google likes longevity.  NPI kept all my page file names, which had already been indexed for many years by the search engines.  This way the search engines wouldn't have to find all new page locations.  They are all the same as before.
All the internal textual links (pointing to other pages within the website) were preserved.   The vast majority of the Title Tags were preserved, while a few were tweaked.  Good, good!  All of my photo "alt text" tags were preserved, as well.  All of these things can be important and helpful in SEO.  A lot of the "on site SEO" that I had worked on for 18 years was preserved.
But, in more recent years, with increasing competition, I had fallen in the SERPs.  Now, it's time for NPI to leverage the groundwork I had done and reclaim my position as "king of the internet!"  Already, I'm seeing improvements via the detailed monthly SEO reports I get from NPI and by virtue of increased new patients.
Round, round get around, I get around.
The navigation was MUCH improved with the menu at the top of the page rather than the left side, as it was before.  My previous website had the rather long navigation on the left side, extending so far, the visitor had to scroll down to see all of it.  Now it's easily viewed across the top of the page with easy-to-use drop-down sub-menu links.  Much more intuitive and more in line with today's "best practice" standards.
Please Respond!
Previously, I had a separate mobile site.  Visitors, using a mobile device, would be automatically redirected to my mobile site.  The problem with that is that now I had to maintain TWO sites.  And, if I added new content to the main site, I had to do it AGAIN on the mobile site.  It was a pain in the ass, really.   And, to be honest, I didn't always update the mobile site.  The "mobi" site was neglected.  And, that's not good.
With my responsive new site, visitors are being fed the same exact content from a single website, regardless of the device being used (desktop, laptop, tablet, or phone).  My new website automatically formats correctly for whichever device is being used by the visitor.  And, now when we add new content, we do it once!
Having a responsive site is no longer optional.  As of 2017, 68% of searches for health information are from mobile devices.  Read that again!  SIXTY-EIGHT percent from mobile.
TMI (too much information)?  No such thing.
I'm not suggesting everyone needs a 55-page website.  Mine just grew to that size over 18 years, as I added new content.  The vast majority of visitor traffic is likely to about 5 of those pages.  Most of the pages are "long tail topics," which is part of my strategy.  I've got the pages and content…. Why not use them?  The trick was to avoid turning the website into an unnavigable quagmire that might intimidate visitors into hitting the "back" button.  NPI handled it brilliantly.  Whatever your needs are, NPI can certainly plan and execute a winning website strategy.
You can add new pages as you go.  Just get started.  You may add pages later as you add new services to your practice.  You may consider creating special "landing pages" for ad campaigns linked to your site, too.
Stay Tuned!
This is just the beginning of my epic return to total interwebz domination!  I am also working with NPI on some other projects to build my practice.  Some of those projects will be integrated with the new website.  I'll be writing about those soon, as well as updating you on how the new website is doing.
If you don't yet have a website or are not happy with the performance of your current website, I cannot recommend the dental marketing brain-trust that is New Patients Inc highly enough.

Copyright protected by Digiprove © 2017 The Dental Warrior®