It's funny how little seemingly insignificant observations inspire me to write.  And, then I can't stop myself.  I have to do it NOW.  🙂
Let's get ana-lytical… 'lytical..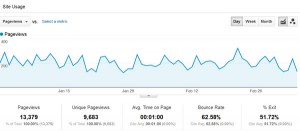 I regularly monitor traffic on my websites using Google Analytics.   Analytics, which is a FREE service, offers a wealth of information about website visitor behavior.
In recent months, I noticed that my dental practice website is getting a majority of traffic from the keyword, "cavity" or "cavities."  That means people are Googling "cavity" and landing on my website.  Cavities?  Really?  It seems a rather mundane topic to be searching.  But, that just goes to show that consumers…. NORMAL people… think differently than dentists.  How can you take advantage of this?
Ch…Ch…Ch… Changes…
It also goes to show that what people are interested in… CHANGES.  In years past, the top keywords that landed visitors on my site has evolved.  "Teeth whitening," "porcelain veneers," "smile makeovers," "braces," and others have been popular in the past.  Why the sudden interest in cavities?  Honestly, I haven't got a clue.  And, it doesn't really matter.
People simply aren't interested in the same things as dentists.  Unfortunately, most marketing BY dentists is really unwittingly done FOR dentists.  Most marketing copy, including website content is written by marketing companies trying to please dentists, who are their paying clients.  The problem is that such content does not appeal to consumers – our future patients.  Worse yet… the canned content on each website is identical for all the sites created by the website company.
The Long Tail becomes the head?
What is the Long Tail?  In a nutshell, and for our purposes, the long tail would comprise the group of keywords that are less frequently used by searchers.  Any one long tail keyword may make up only a fraction of a percent, or a few percent, of all searches.  But, if you take ALL the long tail keywords, each with a miniscule portion of the searches, and add them together… you get a significant number of searches.
Put another way…  A majority of searches might be "dentist your city."  And, if you're in a big city with a lot of competition, it won't be easy to be at the top of Google search results for the common searches such as "dentist your city."  That doesn't mean you don't make the effort. It just means you'll have to work very hard to get there.  However, a less frequent search (long tail) might be for "dental implants your city" or "sleep dentist your city."  Getting to the top of Google's search results for those keywords is much easier.   It's especially easier if your competition isn't optimizing for those long tail keywords.  "Hit'em where they ain't!"

Is your website rich?
While "cavities" might have been a long tail keyword before, it moved up to the head for some reason.  The reason matters not… IF you have a CONTENT-RICH website with individual and unique pages.  I've got fifty-some-odd pages in my practice website.  My website will snag'em for just about any conceivable dental search.  That doesn't mean you have to come up with all that content all at one time.  It took me YEARS to build my site up to that many pages.  But, the sooner you get started, the better!
Dental searchers do their homework.
While many searchers do use Google to simply find a "dentist my town," there are just as many (I think) that are looking for a specific service or a specific type of dentist.  Those folks may be looking for "porcelain veneers my town" or "dentures my town."  They are researching something they already know they need or want.  And, they're likely to visit multiple websites before making a decision.  Make yours stand out!
Break it down.
One of the biggest "mistakes" I see on dental websites is that they put all their services on one page.  This creates a number of challenges.  It makes it nearly impossible to optimize (SEO) the page for any particular service.  The multitude of services all on the same page dilutes the SEO to the point of being ineffective and often not present on Google's search results pages.
No doubt, dental website companies commonly put all the services on one page to keep their prices competitive.  More pages means more work and more expense (for the dentist).  And, dentists are guilty of "price shopping" just as we complain about patients who do the same.  "How much for a website?"  And, so dentists compare one website designer to the next by price alone.  Accordingly, the website companies package canned websites with just so many pages.  Usually the "services" are all on one page.  And, that's not good.
I've long advocated having a separate web page for each service you offer… or at least each service that you want to market.  Honestly, you probably don't need a web page about prophies.  But, I would suggest having individual pages for veneers, implants, dentures, cosmetic crowns, orthodontics, whitening, and so on.  By having individual pages for each, you can optimize (SEO) those pages far more effectively.
If you want to build the orthodontics or implant side of your practice, it won't help if those services are buried in a laundry list of all your services.
Ya gotta pay to play.
This means you will have to ASK your website designer to create individual pages for each service.  And, it means that you will need good, ORIGINAL content for each of those pages.  YOU will have to do that.  YOU will need to write the copy.  This means you'll need to spend more and do some work yourself.  If you want RESULTS, this is the reality.
I can write an entire chapter of a book on just copy writing.  But, I will simply offer this basic advice:  Write like you speak (to patients).  Focus on BENEFITS, not features.  Don't tell them HOW you do an implant or how implants work.  Write about how the patient will benefit.  Talk about quality of life improvement, not osseointegration!
Keep it stupid simple!
A long time ago, it occurred to me that normal people may not search for "composites."  They might search for "white fillings."  And, they might even search for "cavities."  So, I built my website with pages to appeal to those searches.  I believe people are looking for solutions to their problems.  So, when you create copy and content for your website, keep that in mind:  problems and solutions… in SIMPLE ENGLISH.  I touched on website content in another blog post:  Google-Proof Your Website.
What's old is new again.
I would have NEVER predicted that my "cavities" page would be so popular.  Tomorrow, next month, or next year, it will probably be a different page.  But, I'm glad I have individual pages with original content for each service I offer.  People ARE searching for specific dental services or the answers to specific dental questions.  When you cram everything on to a single page, it will NOT show well for these long tail searches.
Take advantage of the long tail, Dental Warriors!

Copyright protected by Digiprove © 2013 The Dental Warrior®