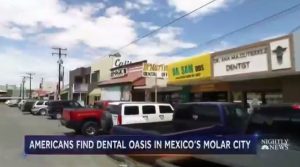 Los Algodones, Mexico…. a tiny town with 600 dentists known as "Molar City," has become the poster child for what some believe "ails" our "dental care system."  Molar City is the Mecca of "cheap dentistry."  Pardon all the quotation marks.  😉   Americans are reportedly flocking to Molar City because dentistry in the U.S. is just "too expensive."  By golly, something should be done about that!
NBC Nightly News ran a segment about it last night.  It's not the first time I've seen a story about Molar City.  But, being on the Nightly News certainly gives it more prominence in the minds of Americans.  Video below:
First, I'd like to point out that I believe any grown adult should be able to go anywhere he or she wants to obtain whichever services he or she desires.  It's a free country.
A crown is a crown, right?
I know that many of us (dentists) have seen some rather alarming "work" come from across the border.  In many cases, the patients are worse off than if they had never been treated in the first place.  Many of us have had to "clean up" these dental disasters from Mexico.  And, it ends up costing patients way more than it would have if they had first sought treatment in the U.S.  But, hey… a dentist is a dentist is a dentist, right?   And, some of the dentists in Molar City were trained in the U.S.  So, that's good, right?   Read on.
Don't drink the water!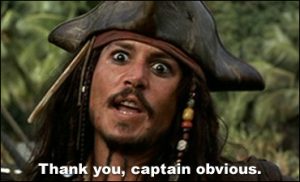 Now, before any of you virtue-signalling social justice warriors reflexively blurt out, "there are good and bad dentists everywhere," consider indulging in scratching more than the surface.  Let's THINK a little about this.  Yes… good and bad dentists are everywhere.  Thank you, Captain Obvious.  But, there is a CRITICAL difference.  If a patient receives substandard care in the U.S., that patient has RECOURSE.  We have state dental boards and malpractice attorneys in the U.S.  An American patient has ZERO recourse in a foreign country, if the treatment turns out to be substandard, or worse, causes harm.  That's a VERY important difference.  It could be argued that the "incentive" to deliver standard of care is higher here.  Patients should understand that if something goes wrong down there, they have no recourse.  The rights they have here do not exist across the border.
The snarky side of me can't help but raise the question, "You won't drink the water there, but you'll let them operate on you?"  😯 
The ADA eunuchs chime in…
At the very end of the NBC News segment, they asked the American Dental Association for a statement.  "Patients should do their research.  There are good and bad dentists everywhere."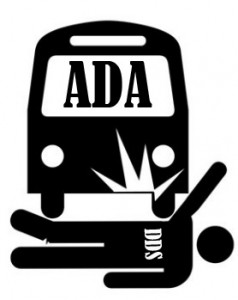 Holy shit!  That's what the ADA came up with???  More virtue signaling!  What about the obvious difference in standards and accountability between here and there, as I mentioned two paragraphs back?  Really?  THAT'S the ADA statement?  This is EXACTLY why I terminated my membership years ago.
The ADA is more concerned about being politically correct than about standing up for its member dentists and representing American dentistry.  At the very least, the ADA could have suggested, "buyer beware."  Once again, the ADA has thrown us under the bus.  The ADA is complicit with this "access to care" narrative.  The fox is in the hen house.
We don't need no steenkin' insurance!
Of course, there is an agenda afoot.  There is a narrative being promulgated by the media and politicians.  The first is that people "need" so-called "dental insurance" in order to obtain dental care.  It's mentioned at the beginning of the NBC video.  We know this could not be more untrue.  Preventive care, on an annual basis costs less than a couple of months worth of cable or satellite subscriptions.  And, the BEST "dental insurance" maxes out, annually, at less than what people pay for their smart phone data plan.  But, they don't need "insurance" for their data plans.  With today's dental plans maxing out at $1,000 – $1,500 (the same as it was in 1965!), we call it the "tooth of the year club."
Furthermore, it's been argued that Americans have a RIGHT to healthcare (presumably including dental care).  It would be equally logical to argue that Americans have a right to food and shelter.  We have the Right to SEEK happiness.  But, we don't have a right to happiness nor to the services or skills of others.
I invite my fellow Dental Warrior colleagues to post comments about their experiences (good or bad) with patients who have crossed the border.

Copyright protected by Digiprove © 2017 The Dental Warrior®