Take a day off!  Do something you enjoy but don't do enough.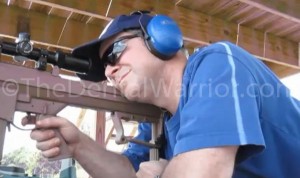 I took the day off from the practice and had a play date yesterday with my patient and friend on his private gun range.  This is WAY out in the "sticks" of south Florida.  But, it is a fantastic set-up.  There are steel targets hanging every hundred yards from 100 to 1,000 yards.  There is a two-level "shooting tower.  He also has an air-conditioned trailer.
The special part of the day was getting to shoot three high-powered long-distance rifles.  They included:
Remington 7-mm Magnum
Accuracy International .338-Lapua
Barrett .50-caliber
Whatever passions you may have… take a day off and do THAT every once in a while.  It's fun, and it re-energizes you.
Without further ado…. here's a video compilation of the day.

Copyright protected by Digiprove © 2013 The Dental Warrior®