About 2 years ago, my office staff found a tiny kitten huddled outside the front door to my office.  As it turns out, he was about 5 weeks old, but he weighed 1.3 pounds.  My staff suggested I should do something.  The poor little guy was huddled and shaking.  He was skin and bones.  When I approached him, he found the energy to run for cover in the bushes.  I grabbed a box and cornered him.  He hissed but couldn't do much more.  I grabbed him by the scruff of his neck and stuffed him in the box.  I put him in the staff break room.  At lunchtime, I ran out and got some "cat formula" and a dropper to feed him.  He wouldn't take it from the dropper.  But, he would lick it off my finger.  Awwwwwww.  😉
I feel compelled to point out that I'm NOT a "cat guy."  🙂  Keep reading… there's a dental point to be made here.
Cats in the Cradle
My staff then reasoned that since I already had two cats at home (I protested to no avail), that I should take this cat home, too.  But, this kitten was in BAD shape.  He was covered in scabs.  His ears were so scabbed up, they were like stiff cardboard with no fur at all.  So, I took him to the vet on my way home.  The vet confirmed he was in bad shape, and with eyebrows raised, he asked me, "Do you want to save him?  He's pretty rough."  Yeah, I want to save him.
He had every worm known to infect cats.  He had mange.  He had fleas and other assorted arthropods making a home in his patches of fur.  The vet also confirmed the kitten was a male.  Given that the two cats at home we had adopted were females named "Queenie" and "Princess," I made a command decision to give the new addition a strong masculine name – "Spike."
Spike spent about 5 days and $600 worth of "rehabbing" at the vet.  Upon taking him home, he had to be quarantined from our other two cats for two WEEKS (in the guest bathroom).  Today, two years later, Spike rules the house.  He doesn't miss any meals or treats and weighs in at 14 pounds.
So, what does this have to do with dentistry?  Yesterday, my wife took Spike for a regular check-up at the vet.  Today my wife asked me, "what do you charge for a cleaning and x-rays?"  Of course my curiosity was piqued.  She then explained that the vet suggested Spike needed to have his teeth cleaned, as he had tartar build-up.  At the vet's office, she asked how much it would be.  The staff at the vet told her, "we'll send you an estimate."  An ESTIMATE?  For a dental cleaning?
Fees, fees, everywhere there's fees.
The reason my MBA-degreed wife asked me about my fees became apparent when the "estimate" arrived in the mail today.
OK… I know periodontal disease affects animals just as it does us.  And, I won't argue the rationale behind veterinary dental prophylaxis.  But, the "estimate" for Spike's "dental cleaning" was stunning.  When I looked at it, I asked my wife if the vet said anything about OTHER services beyond the "cleaning."  Nope.  I'll let the estimate speak for itself.
I'm aware that doing any dental treatment (even a "cleaning") requires general anesthesia for an animal (especially a cat!).  But, a "full mouth series" on a cat?  For about $100?  How many films is that??  Heck, I think I charge about $120 for 18 films.  "Flap surgery" to extract a cat tooth?  It was never even mentioned to my wife that, at 2 years old, Spike needs a tooth removed already.  And, a "pre-surgical profile & CBC???"  Hmmm.  I've never done that for ANY of my patients before a prophy or even an extraction.
Bottom line… the estimate quoted $700 for what my wife was told was a "dental cleaning."  Heck, that's almost what most dentists get for four quadrants of scaling and root planing with local anesthesia.
Tell me again why I invested so much into dentistry.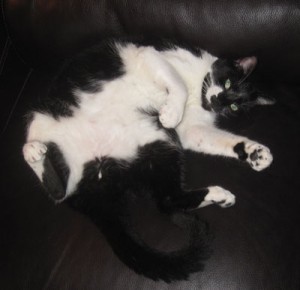 Whenever I see fees like these for the vet or those of plumbers, auto mechanics, or even a hospital bill, I can't help thinking about what we dentists charge for our services.  I consider the investment in our education and the MASSIVE investment and overhead incurred by building a dental office.  Our services are undervalued.  They're undervalued not only by consumers at large, but even by our own profession.
There is no "insurance" plan to cover Spike's veterinary care.  And, I'm not suggesting there should be.  While my practice is overwhelmingly filled with self-pay patients (only 8% have a benefits plan), I'm aware of most dental practices being largely insurance-based.  As such, fees are usually held down.
The cost of preventive dental services is a bit of a touchstone for consumers.  In other words, as consumers are frequently exposed to those particular fees, they are very aware of any changes.  By contrast, you can raise your fees for less frequent procedures (such as dentures, root canals, and even crowns) without them being noticed and compared.
I'm not really sure what my final point is here.  Perhaps it's to suggest our fees are too low.  Dentistry is undervalued.  Underutilized.  Under-appreciated.  Your mileage may vary.  Draw your own conclusions, Dental Warriors, and share them here in the comments section.
PS… another point occurred to me.  My wife was told Spike needed a dental cleaning.  She wasn't told about ANY other services.  There are two extractions listed in the "estimate."  She didn't know about that.  She wasn't told about the x-rays, either.  Hopefully, all of us are better at communicating with our patients and don't surprise them with itemized fee quotes or bills.

Copyright protected by Digiprove © 2013 The Dental Warrior®