I love what I do for a number of reasons.  I like the combination of engineering, biology, physics, and art that goes into restoring teeth and smiles.  I like that we can eliminate a patient's pain, usually in a single visit.  And, I like that our efforts can literally change lives for the better.
I'm always touched when a patient takes the TIME to go that "extra mile" in showing his or her appreciation for what we do.  They pay us for our services, of course.  And, that should be enough, right?  But, some patients are compelled to go further and thank us in a number of ways.  Sometimes it's baked goods.  Sometimes it's a hug.  Sometimes it's a nice card.  And, sometimes they even take the time to write their heart-felt thoughts.  I got this card and letter this week:
Dr. Mike, Jo-Ann, Sandy, and Marcy,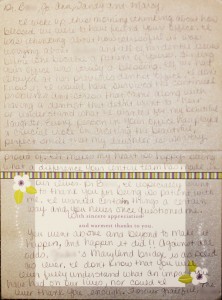 I woke up this morning thinking about how blessed we were to have found your office.  I was thinking about how stressful it was worrying about Mary and all of her dental issues before she became a patient of yours. 
Finding your office was truly a blessing.  If we had stayed at her previous dentist office, I don't know if I would have survived the continual problems and stress that came along with having a dentist that didn't want to hear or understand what I wanted for my beautiful daughter. 
Every person in your office has played a crucial role in creating the beautiful, perfect smile that my daughter is so very proud of.  It makes my heart so happy seeing what a difference your entire team has made in our lives. 
Dr. Mike, I especially want to thank you for being so patient with me.  I wanted certain things a certain way, and you never once questioned me.  You went above and beyond to make it happen, and happen it did!  Against all odds, Mary's Maryland bridge is as solid as ever.  I don't know that you will ever fully understand what an impact you have had on our lives, nor could I ever thank you enough.
Forever grateful, The Smiths.
This family has gone out of their way to thank us before.  Before I remade her Maryland Bridge, I did some bonding.  I blogged about it previously.  Here is a sequence of photos demonstrating the new Maryland bridge:
What can we learn from her letter?  Patients want a doctor who LISTENS.  It has taken me years to learn to do that, and I'm still learning.  Many of us (myself very much included) are quick to interject our "expert" opinion at every opportunity.  Learning to "shut up" is a valuable skill!  And, in this case, I listened to both the mom and my patient, her 13 y.o. daughter.  When I did speak, I made sure to address the daughter, as well.
A note like this from a patient really provides perspective and makes all the effort worthwhile.  To borrow from Mel Brooks' "History of the World"….  It's good to be the dentist.

Copyright protected by Digiprove © 2015 The Dental Warrior®