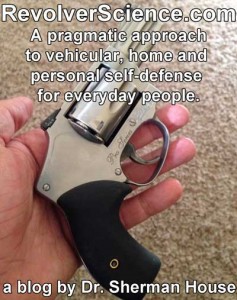 This is only the 2nd time I've posted a link to another blog article.  But, this one deserves the acknowledgement and is worthy of a hat tip!  My friend and colleague truly deserving of the term "Dental Warrior," Dr. Sherman House, has written up an excellent article about self-defense.  Be warned… it's necessarily a long article (in the spectrum of blog articles).  It's NOT an article "about guns."  It's about avoiding trouble and a defensive mindset in the context of real world threats, which come in many forms.
An excerpt and summary of what Sherman covers:
It's WELL worth the 20 minutes of reading.

Copyright protected by Digiprove © 2016 The Dental Warrior®