This Dry Fire Laser Training Systems Review is the longest article I've written so far.  But, it's worth reading!  I cover most of the major products on the market… all purchased by me with my money.  Of course, there will be products on the market that I don't cover.  I'll be reviewing products from Laserlyte (various products), Next Level Training (SIRT laser pistol), LASR (dry fire app), and Coolfire (recoil trainer).
Shooting Practice in the Comfort of Your Own Home
Some of us can't get to the range as often as we'd like… for a number of reasons:
⦿  Time – You're just busy with life…  You've got to pack up your gear.  Drive there.  Drive back.  Clean and put away gear.
⦿  Distance / Convenience – Availability of ranges may be limited.
⦿  Cost – Ammo has been scarce and expensive in recent years.  An hour at the range, practicing with 9-mm could cost $40 – $60+ in just ammo costs.
While live fire is certainly the "best" practice you can get, Dry Fire has a lot of value, as well.  Even professional shooters, who have virtually unlimited range time and ammo, use Dry Fire practice as a part of their regular and structured training regimen.
What is "Dry Fire?"
It's basically using a firearm without ammo.  The trigger is pulled, and the hammer or striker drops on an empty chamber (better with "snap caps" or a "dummy" cartridge to prevent excessive wear).  It may involve using an actual unloaded firearm.  Or, you can use a simulated firearm specially designed for Dry Fire practice (See section on SIRT pistol below).
Dry Fire practice lacks the recoil factor of live fire.  But, it allows the shooter to focus on grip, trigger control, sight alignment, sight picture, and other skills.  And, you won't "run out of ammo."  You can repeat sight pictures and trigger pulls many, many times, burning it into "muscle memory."  Dry Fire also has the advantage of not requiring a range.  You can do it anywhere, including inside your home.  I would not recommend doing it in public areas, for hopefully obvious reasons….  We don't want to frighten the muggles, eh?
Over time, Dry Fire practice will hone and maintain your skills while also saving you money.  Win-win!
What follows here is my Dry Fire "evolution" and a comparison of laser training systems.
Crap.  Rack.  Pew! (a variation of "tap, rack, bang")
If your gun is a striker-fired semi-automatic (like a Glock), you have to rack the slide (to reset the trigger) before pulling the trigger for each Dry Fire shot.  It gets very tedious (adding to the boredom factor), and racking the slide between every shot is not a good simulation of the actual use of the firearm.  Worse yet, it might introduce "training scars" (engrained habits that would be inappropriate in a real defensive situation and could get you killed).  If you have to manually reset your trigger for each shot in Dry Fire practice, you can't "fire" multiple shots (or multiple targets) sequentially.  It's simply very limiting.
There are Dry Fire trigger kits for Glocks (that resets the trigger each time), but I don't think most Glock owners want to disassemble and reassemble their guns for each Dry Fire session.  And, the trigger kit is expensive ($199) for what it is.  For a little more than that, you can get yourself a dedicated SIRT laser training pistol (more on that below).  I don't think the trigger resetting kits are practical nor worth the price.
Some striker-fired guns have a "repeat strike" or "second strike" feature that eliminates this issue.  No recocking / racking the slide needed to Dry Fire again.  Sig Sauer is one company that offers this on some models.  HK is another.  (According to my very cursory research)
Hammer-fired guns don't have this issue (in double-action).  However, if you want to use the single-action mode of your pistol, you'll have to cock it before each shot.  And, that will also get old / annoying quickly.  Ask me how I know!
ZZzzzzzzzzzzzzz!
One issue with unenhanced Dry Fire is that it can get BORING.  It's just you and your gun, aiming at a spot on the wall, pulling the trigger over and over.  Snooze-fest!  Without the "bang!", recoil, destruction of a target, or smell of cordite….  It just lacks any sort of  sensory "reward."  As such, it is difficult to stay motivated with Dry Fire practice.
Lasssers!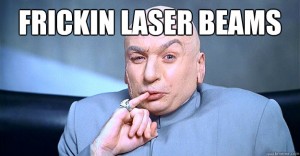 Who doesn't like lasers?  Lasers are cool and have many uses.  In the context of Dry Fire, lasers are a great way to see where your "shots" are landing.  A laser blip on the Dry Fire target replaces the holes you'd see in live fire as feedback on your effectiveness.  Now you can, at least, SEE something, if only momentarily.  You're visually rewarded for your efforts, and you can measure your effectiveness to a degree.  The downside is that it takes your eyes off the sights, and you have no lasting "record" of your shots to examine later.  Or is there?  Stay tuned and read on!
There are many nifty products on the market for this purpose.  There are "laser cartridges" that look a bit like a real cartridge that has a laser built into it.  They are caliber-specific and fit perfectly in the chamber of your gun.  Word on the street is that the end cap, where the gun's firing pin activates the switch to fire the laser, will wear out at some point.  According to the company, they are expected to last for 3,000 shots or 3 years.  The end caps are a replaceable part for $10.
There are also lasers that are fitted into the muzzle of your gun.  They often have "universal" adapters that allow them to be used in firearms of different calibers.  So, if you have more than one pistol (in different calibers), this is a great choice.  The first Dry Fire laser I bought was LaserLyte's universal LT-Pro laser.  It fits in the muzzle of pistol calibers from .380 to .45-ACP.  It's a neat system, but it has one drawback.  The LT-Pro laser doesn't have an on/off switch.  If you leave the batteries in while it's not being used, they will wear out prematurely.  So, that means you really need to install and remove the batteries each time after you're done using it.
Edit to add:  LaserLyte just added a new product, LT-Pre, aka "Pistol Trainer Premium," that has an on / off switch to eliminate the battery drain issue.  It will also fit in 2-inch snubnose revolvers, whereas the LT-Pro would not.  I have a couple of snub nose revolvers, so of course, I couldn't resist buying the LT-Pre.  Now I have both.  🙂  I really like having the on / off switch on the LT-Pre.  Another advantage of the new LT-Pre over the old LT-Pro (being phased out) is that the bore size adjustment is easier and can be done without a tool.

The LT-Pro and LT-Pre are activated by the sound of the striker / hammer, so no laser-activating switch to wear out like in the cartridge lasers.

If you want to get more out of dry firing your actual defensive gun, LaserLyte's LT-cartridge or LT-Pre (fits all calibers from .38 to .45) are excellent choices.  If you have multiple handguns in different calibers, then the LT-Pre is the way to go.  If you only have one gun (or multiple guns in the same caliber), you might consider LaserLyte's Trainer Pistol Cartridge laser.  More about how I use my LaserLyte LT-Pre in dry fire drills later in this review.
••• – – – •••  Not Morse Code
Both LaserLyte cartridge and muzzle lasers fire a visible "blip" when the trigger is pulled.  It's 100 milliseconds long, which is long enough to see it.  Wherever you were aiming when "firing," you'll see a red laser blip.  This gives you some feed back on both your sight picture and trigger control.  Sight picture effectiveness is obvious – did you hit where you were aiming?  Trigger control issues can also be analyzed, as well.
Was the laser blip a "dot" or a "dash?"  Dots = good.  Dash = possible problem.  If it's a dash, you're moving the muzzle during the shot.  There are several causes for that, like jerking or slapping the trigger.  It can be trigger finger placement.  It can be a grip issue.  But, diagnosing those problems is not in the scope of this article.  You can research that on the interwebz or, better yet, get trained and coached by an NRA instructor or firearms professional.  The point is that a Dry Fire laser can be an excellent training tool.  And, it makes Dry Fire more interesting, effective, and FUN.
More Toys
I also got the LaserLyte  "Trigger Tyme" Trainer Pistol, which is a plastic simulated pistol with a resetting trigger that uses the LT-Pro pistol laser in the "muzzle."  The idea is that if your real pistol doesn't have a resetting trigger (like the Glock), you could use this instead.  No cocking necessary between shots.  It's relatively cheap (~$50), and well… you get what you pay for, eh?  It doesn't effectively mimic a real gun in any way.
Though it's weighted, it feels somewhat lightweight in my hand.  The Trigger Tyme training pistol grip is on the small side, too.  The trigger is fairly stiff and makes a loud "clack" sound when pulled (which then activates the laser).  It's loud enough that it would probably annoy anyone trying to sleep in the house.  The sights on it are pathetic.  I painted mine for better visibility.   Another problem with the Trigger Tyme pistol is when the trigger resets, it makes a noise loud enough to fire the laser a second time.  So, with some of the trigger pulls, you get TWO "shots," one on the trigger pull, and another on the release of the trigger.  It doesn't happen every time, but enough to be annoying.
(Edit to add:  I took the Trigger Tyme pistol apart – 8 screws.  I did my first "trigger job" ever!  I rounded / radiused the corners of trigger "sear" with a file.  This eliminated that second loud clack on trigger reset that set the laser off.) 
It's better than nothing, but I don't think it replicates a real firearm enough to make the skills truly transferable.  It's more of a toy than a firearms trainer.  It looks and feels like a toy, in my opinion.  (Editing to add – another blogger suggested it serves well for training children, because of its smaller size.  I agree that it may serve that purpose well.  My daughter likes it.)
LaserLyte is constantly developing new and interesting products.   My review here is limited to the few products I own from their line.  I recommend you check out the LaserLyte website, as they may have the right laser training product for your needs.

Flirt with the SIRT.
There is another option – a dedicated dry-fire laser pistol, like the SIRT Pistol.  It's not cheap… $240 – $400, depending on which model you get.  I'd consider it the "gold standard" in laser trainers.  But, it's WAY COOL and WAY GOOD.  This is a serious tool.  The SIRT pistol physically duplicates the classic Glock 17 (and Glock 22).  It's the same size, weight, and feel of the Glock 17 / 22.  It will even fit in a Glock-specific holster.  You can order it with either a red or purple "slide."  The color makes it stand out as a training / replica gun.
The SIRT is equipped with TWO lasers. One laser lights up during "trigger uptake," before it "breaks."  The other is the shot-indicating laser that fires when the trigger "breaks" / is pulled all the way to make the shot.  The model I got uses a red laser for the trigger uptake and a green laser for the shot indicator.  One advantage of the green laser is that it's brighter and more visible in brightly-lit environments or outdoors.
The other (less expensive) version uses two red lasers.  The purpose of the trigger uptake laser is to indicate and diagnose movement issues before / during the shot.  The trigger uptake laser can be shut off with a convenient external toggle switch on the top of the slide.
It's important to note that the uptake laser is NOT an aiming laser.  The idea is that the uptake laser is set at the factory to be below the shooter's line of sight, so an instructor can observe it to diagnose trigger-control issues with a student.  In my personal SIRT pistol, I've got the windage of the uptake laser set quite a bit off to the side, so I can see it peripherally while I'm using the "iron" sights to aim.  Though, the vast majority of the time, I have the uptake laser turned off.
Furthermore, the red and green laser functions can be reversed (uptake vs shot indicating) with some minor disassembly.  Both lasers are adjustable for windage and elevation.
The SIRT also has a removable magazine (with a mag release button just like the G17) that is weighted like a real loaded magazine.  (The weight is adjustable, too.)  Extra magazines can be purchased.  So, you can practice magazine changes.
The SIRT pistol is a big jump up from the other laser systems.  If you're serious about Dry Fire practice, and you like the Glock or Smith & Wesson M&P platform, then the SIRT is worth the money.  Being able to repeatedly "fire" without having to cock the pistol makes repetitive firing and drills more realistic.
One nit to pick with the SIRT pistol is the sights.  The sights are a plain black plastic front post and black rear notched-blade.  Black on black.  No white dots or other markings…. just plain black.  That doesn't work for me (or my eyes).  The good news is that the SIRT's sights are replaceable.  And, the OEM (original) Glock sights fit perfectly (see photo above).  You can buy a replacement set of Glock sights online for about $20.  Or you can add whichever sights you like, ideally duplicating the sights that you use on your defensive pistol.
The SIRT pistol is also available with two different "slide" options.  The "slide," which doesn't slide, comes in a plastic or metal version.  My green laser SIRT has the metal slide.  My more recent infrared laser SIRT has the plastic slide.  There is definitely a perceptible difference in weight between the metal vs plastic slide models.  The metal slide model feels a bit more like a real pistol in terms of weight in your hand.  However… does it really matter in practical terms?  Is it worth the significant difference in price?  Probably not.  I suppose it's a matter of how important it is to you for your SIRT to replicate every last detail of a real pistol.
The folks at Next Level Training, who make the SIRT pistol, have promised that there is a version modeled on the Smith & Wesson M&P pistol in the works.  Not everyone has a Glock or likes the ergonomics of Glocks.  So, hopefully, they'll have the M&P version of the SIRT pistol out soon.  Update:  They now have an M&P version!  (back to top)
Target acquired!
There are also laser-activated targets on the market now.  This type of target detects where each shot hits.  Then you shoot the "display" sensor, and all your target hits light up with LEDs.    They stay lit until you reset the target (by shooting the "Reset" sensor).  Pretty cool.  A couple of years ago, I bought LaserLyte's Laser Trainer Target.  The Trainer Target is a little box unit that uses three AA batteries.  It has to be placed on a flat surface (high enough to accommodate normal shooting posture).
It can't be hung on a wall (at least not my older model).  That limits where it can be placed, and it's just the one target.  So, it's pretty slick and way better than targets with no feedback.  It's basically bulls-eye shooting at a fairly small target.  So, you can practice as the shorter distances usually available in your home with a scaled-down target that simulates a larger target at a longer distance.  I hope that made sense!  That said, it will work well for practicing sight picture and trigger control.  The Laser Trainer Target works only with red lasers, by the way.  Edit to add:  They don't advertise the fact, but it also works with INFRARED lasers.  I tried it.  Cool!  😎   Too bad it won't work with green lasers.  😥
A nit to pick with the Laser Trainer Target is that to access the batteries, you have to remove SIX screws from the back cover of the unit.  A quick access to the batteries (no screws) would be nice.  If you leave the batteries in for an extended period of time, you get that nasty green corrosion that could damage the unit.  Ask me how I know!
Another "hint" that makes the Laserlyte Laser Trainer Target easier to work with…  The "Display" and "Reset" sensors can be difficult to hit at a distance with your pistol laser.  If you happen to have a traditional cheap "laser pointer," you can use it to hit the display and reset sensors more easily.
There are other types of "reactive" laser targets by LaserLyte, including "plinking" cans that fall over when hit by a laser blip.  They also have some targets that randomly light up (as a signal to shoot them) to test your reaction time.  They come in a package of two or three targets.  Pretty neat!  I don't have these, yet.  Check out their website to peruse their wide variety of laser training gizmos.  Good stuff. (back to muzzle laser section)
Taking Dry Fire targets to the next level with L.A.S.R.!
With all those gizmos, I was STILL getting bored with Dry Fire practice.
Recently, I discovered a software app that makes Dry Fire practice a whole new experience… one that very closely simulates time spent at a real range.  It's called, "L.A.S.R." which means Laser Activated Shot Reporter.
(I've made arrangements for my readers to save 10% by using the coupon code "DentalWarrior".)
All you need is a laptop, an external (USB) webcam, and the app (plus whichever laser system you like).  This app works with ANY Dry Fire laser system.  It can be used with the SIRT (any color laser) or with a real pistol with an attached muzzle laser like the LaserLyte LT-Pre or a Laserlyte cartridge laser.
You can use any kind of target you like.  You can use traditional commercially-available paper targets.  You can draw or print your own.  You can use small scaled-down targets or life-sized silhouettes, if you want.  You can even designate any object within view of the webcam as a target… light switches, framed art, plugs, etc.
What does it do?  Basically, you open the app on your laptop and connect an external web cam.  Aim the webcam at your target or targets (up to twenty!).  In the app, you'll designate each target by drawing a border around it.  The app has target shape presets, making designating the borders of various targets as easy as click-and-drag.  The shapes can be resized and rotated.  You can assign different score values to each target.  You can also designate "miss" zones that are tracked by the app.
When you shoot, the camera and app capture the laser blips and record them (super-imposed) on the video image of the targets.  It will keep score and time your shots, as well.  There are several different timed drills you can run, including one where the app calls out multiple targets randomly (by name) for you to react and shoot.  There is a "Race Mode" that can track two to nine shooters simultaneously (in competition).
Every function of the app is very customizable.  You can change the color and size of the shot indicators.  I made the shot indicators larger for some of the photos in this article.  You can even customize the sound of the gunfire and the sound of the target being hit (like a steel target).
Of course, the L.A.S.R. app doesn't perfectly duplicate live firing at the range.  But, I think it's as close as we can get to SIMULATING it.  The only thing missing is recoil.  But, the simulated sound (coming from your laptop speakers) is there.  The visual evidence of where the shots landed is there.  There is an integrated shot timer and scoring system for post-shooting analysis.  And, you can save your targets (both images and your times / scores) to your hard drive.
The software isn't terribly expensive ($120 – Save 10% by using the coupon code "DentalWarrior").  That's about the cost of two trips to the range for me, if I include ammo costs.  And, you get updates for "life."  Then it becomes a matter of which laser training device you decide to use.  But, if you use it regularly, you'll save money (over the cost of real range time and ammo)… and improve your skills!  To be clear, though… this is not a substitute for live fire practice.  It can be a significant enhancement to your live fire practice and skills.
The best thing about the L.A.S.R. Dry Fire app is that you have specific targets to shoot at, AND it gives you feedback that you can analyze.  You can MEASURE (and record) your performance… work on specific issues… and IMPROVE your performance.  Very, very cool!  Here's an example of how detailed analysis of your performance can be.  I ran a series of timed draws / first shot drills.
You can't do that here!  (But, you can do it at home with L.A.S.R.)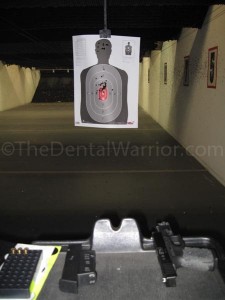 At most public ranges, for safety reasons, shooters are very limited in what they can do.  They don't allow drawing from a holster.  They don't allow shooter movement.  They don't allow multiple targets.  They don't allow rapid fire.  You have to stand in place with your gun always pointed downrange and fire at a rate no faster than one shot per second.
In other words, they don't let you practice any techniques that you'd likely use in a real-world defensive situation.  However, I understand why they institute those strict rules (for safety) at public ranges.
Several months ago, I took a defensive pistol course that involved drawing from a holster and "instinctive" or "point" shooting.  I learned some great skills.  But, I can't practice those skills at a traditional public range.
For real world defensive shooting practice, static "square ranges" don't cut it.  In my case, I could go to an outdoor range that offers private bays for rent to practice dynamic / defensive shooting.  But, it's over an hour's drive away.  And, unless I get a group of shooters together, the private bay rental can be expensive.
With a Dry Fire laser-equipped pistol and the L.A.S.R. system, you can practice all of that… at home!  For example, you can set the app to give a random signal, and time the draw to your first shot.  It will also time intervals between shots for multiple shots.  Then you can see where all those shots landed and even highlight each one as you scroll through the time record.  You can draw from a holster.  You can move.  You can fire from cover or concealment.  You can fire from compromised positions… on your back… on your ass… with your "weak" hand…. and so on.  You can use multiple targets.  Your house, your rules!
Below is a saved image of a draw from concealment drill.  I started with my SIRT pistol in an IWB (inside the waistband) holster with an untucked t-shirt covering it.  When the timer's start buzzer went off, I drew and fired… and kept firing (which I can do with the SIRT without manually resetting the trigger between shots).  I chose the Styrofoam plate in the center for this drill.  The timer was set to stop at three seconds (aka "par time").  So, I had three seconds from start to finish, getting as many shots on the "threat" as possible.   The shots are in red (with the highlighted first shot in orange-yellow, at about 2 o'clock).
I ran a similar drill (but just one shot per draw) with my "EDC" (every day carry) for more "real world" practice and performance assessment.  Since my "EDC" is a real firearm, I used the LaserLyte LT-Pre laser mounted in the muzzle.  Remember, safety first!  I quadruple-checked that the pistol was clear / safe and moved the magazines and ammo to another room.  Read the caption below for more details on how this drill was performed.
But, that's not all (it does)!  There's More!
The L.A.S.R. app has a "magazine change" mode that can be set so that you "run out of ammo" at a certain point and have to "reload."  The SIRT pistol has a removable magazine, and you can buy spares for practice / training.  The number of rounds available in your L.A.S.R. virtual magazine is adjustable, too.
The depth of options that add to the realism of your Dry Fire practice is impressive.
Another neat feature is the "Diagnostic Mode."  Remember the "dots vs. dash" I mentioned before?  The L.A.S.R. Diagnostic Mode will trace the "tail" or "dash" that occurs from muzzle movement during the shot.  Example below:
L.A.S.R. Selfies!
The L.A.S.R. app also currently offers four optional plugins.  I won't review all of them here.  But, one worth mentioning is the "Shooter Watch" plugin.  It allows the use of a 2nd camera that you can aim at yourself.  When you run your shooting drills, the app will automatically use the 2nd camera to record you.  The video recording of you is synced with the recording of the shots on target.  Cool as shit!
With this, feature, you can save and play back the drill for evaluation of things like footwork / movement, cover garment clearing, draw stroke, trigger control, and just about anything else you can think of.  It can also be used to create instructional videos.  Here's a quickie video example I made:
Going infrared!
I'm updating this section, since I bought another SIRT pistol.  This model is equipped with an infrared shot-indicating laser.
The infrared SIRT pistol offers some advantages in terms of realistic training.  With a visible shot-indicating laser, the shooter will have a tendency to "chase the dot."  What do I mean?  When I take the first shot, I'll use the pistol's sights.  But, I can't help noticing where the laser dot "hits."  If I miss the bulls-eye, there will be a nearly irresistible tendency to make corrections and see where the next "shot" lands by looking past the sights (and not using them).  In essence, the shooter will "walk the shots in" to the bulls-eye without using the sights for follow-up shots.  A visible laser will cause the shooter to switch from sight shooting to target-focused shooting.  That said, there is occasion to use target-f0cused shooting technique (aka "instinctive" or "point" shooting).
With the infrared SIRT pistol, I can't do that.  I can't see the "shot," so I'm forced to continue using the sights for every shot I take.  No more cheating by "walking the laser dot in."  Of course, the LASR software records the "shots" when using the available infrared camera.  This is a more realistic approach to training, whereas the shooter is using the sights for every shot.  (back to target section)
This is how we do it.
Another use I can see for these technologies is for instructing newbies.  I will definitely be using it to introduce friends and family to shooting BEFORE we go to the live range.  It will be an excellent tool to introduce and teach new shooters:
Safety!
Proper grip.
Sight alignment.
Sight picture.
Trigger control.
… all before going to the live range.  And, they can SEE the cause and effects of what they're doing before incurring the sometimes intimidating factors of live ammo recoil, noise, and other people (watching) present at a real range.  With a laser-equipped gun and the LASR software, it will be a lot easier to instruct new shooters on how grip, sight alignment / picture, and trigger control affect their shots, without the distractions of a live range environment.
One-stop shopping at L.A.S.R.
The folks at L.A.S.R. sell all the accessories you need to use their system, including the SIRT pistol and other laser training devices, webcams, and targets.  The only thing you'll need to provide is a laptop.
Click the links and check them out.  If you use "DentalWarrior" (one continuous word, no space) in the coupon code, you'll save 10% on your entire order!   Click on the photo to the right to visit the LASR website.
Their websites also include some great videos.
Coolfire Trainer Recoil System
My honest opinion about the Coolfire Trainer recoil system:  Not ready for prime time!  It's a really neat concept.  Their system includes a replacement barrel (that is the internal CO2 gas tank) for your real semi-auto pistol (Glock 23, in my case).  There is a laser that fits on the end of the barrel.  When you pull the trigger, the laser fires, and CO2 actuates the slide, simulating recoil and resetting the trigger.  So, you get to use your actual pistol with a laser, AND it cycles the slide and resets the trigger with CO2 gas.  Sounds great, right?  By all counts, it WOULD be the "holy grail" of Dry Fire gizmos.  If only.
I like the idea of simulating recoil and resetting the trigger on your real striker-fired gun for dry fire training.  I wish I could offer a positive review.  But, it just doesn't live up to the claims.  And, I have to remain objective and truthful in my reviews.  Damn, it wasn't cheap, either!  $400!  Sometimes you get "cut" on the "bleeding edge" of technology.
Charging the unit with CO2 was inconsistent.  I went through two tanks and two charging stations to get it working… sort of.  I think there is a problem with the "charging station" specs.  The first two "shots" were strong.  But, the power tapered off quickly with the second half of the shots cycling the the slide slowly.  The slide action also actuated the laser, causing "double hits."  Basically, it simply doesn't work as advertised.  If you search the web, you'll find many stories of units breaking very quickly or simply not working.  Customer service is also reportedly spotty.
If things change, I'll update this article.  I would love to hear from them, as I gave up trying to get some answers.  For now… DO NOT BUY the Coolfire Trainer.
UPDATE:  CoolFire has changed management / ownership and contacted me to resolve the issues.  To be fair, I have not had time to follow-up (and I've been on a precision rifle kick that has distracted me from pistol shooting).
In my opinion, the SIRT pistol is still the best thing going when it comes to a realistic training pistol with a resetting trigger.
Been there.  Shot that.
As you can see, I've purchased just about every dry fire practice gizmo… some of them not cheap for what they are.  I do not want to add it all up!  I'd bet I could have bought a couple of real guns for what I've spent!  Some of the gizmos are good (Laserlyte).  Some are great (SIRT and LASR).  The most expensive gizmo was a dud (Coolfire Trainer), so far.
I will use the LaserLyte LT-Pre when I want to dry fire a particular firearm.  For example… when I want to train with my "EDC," which is a smart idea, I will be using the LaserLyte LT-Pre.  But, the SIRT pistol + L.A.S.R. combination is very different… in a good way.  I will be using them a lot.  I think they are the coolest things since "slicing the pie."  (Gun pun for the ballistic cognoscenti!)  I can't recommend them highly enough!
I hope you enjoyed my Dry Fire Laser Training Systems Review.  Are you regularly using Dry Fire as part of your training?  Chime in below!

Copyright protected by Digiprove © 2015-2017 The Dental Warrior®