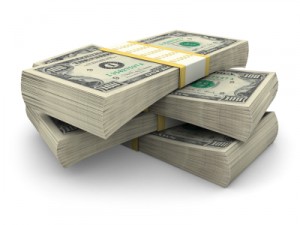 I treat patients from all walks of life.  Contrary to a reputation that mysteriously precedes me, I don't have a practice full of wealthy people with bad teeth and open wallets.  I wish!  But, my patients do span the spectrum.  A significant portion of the "big cases" I do (which have been few and far between since 2008) are for patients that are very much middle class.
I understand that times are tough for many people, and I've kept my fees steady for the good part of this "recession."  Furthermore, about a year ago, I implemented an in-house membership-based dental savings plan called, "Quality Dental Plan" or QDP.
For a tooth??  That's too much money!
I am occasionally frustrated by those patients who "cry poor" when it's quite obvious they're not.  I am not at all bothered by the fact that some people just don't value their teeth or the services of a good dentist.  Really… they're not MY teeth.  I've "matured" to the point of being very comfortable presenting treatment options and letting the patient decide.  They can do:
All of what I suggest.
Some of what I suggest.
None of what I suggest.
I present the advantages and disadvantages of each.  In the Navy, we used to say, "Run it up the flagpole and see if anyone salutes."   It's all good.  I'll be here when you're ready.  Dr. Bill Blatchford once said, "Some will. Some won't. Some wait. So what? Next!"
But, I'm on a fixed income!
This week, I had two patients who are "snow birds."  That means they live here in Florida for the winter and spend the rest of the year up north.  They have TWO homes.
One of these patients was referred by a long-time family of patients.  She broke tooth #6.  The distal half of the facial fractured, leaving the big DL amalgam behind it exposed (and loose).  There is obvious recurrent decay underneath, and I expect it is pulpally-involved.  I explained that the tooth needs a crown and likely needs root canal therapy and maybe a post.
To have time to do it all (RCT, P/C, crown prep) in one visit, we'd need to schedule it in the next couple of days.  No problem with that, as she was in no discomfort.  She went to the front desk where the fees were presented.  She exclaimed that she was "shell-shocked," and did not schedule the appointment.  She was dripping in jewelry, including a diamond "tennis bracelet" that probably goes for $20k.  Two homes and expensive jewelry, but she balked at paying me to save her front tooth.  Alrighty, then!  NEXT!
And, on the same day…
The other patient, also a two-home snowbird had a loose bridge.  She was referred by a retired dentist who knows me.  It turns out the bridge came out, and her retired friend recemented it for her with some drug store cement.  He did a mighty fine job of it, too.  It was still mobile and had loosened on one end.  I tapped the bridge out to inspect what remained.
The bridge spanned #12 – 15 with a pontic #14.  The abutment #12 was decayed to the point of being a residual root.  Tooth #13 was intact, but it had lost more than half of the supporting bone and was class 3 mobile.  The only salvageable tooth was #15, which was intact and had decent bone.  The teeth anterior to this area were intact but showed some significant attrition / wear facets.  She was in no discomfort.  The bottom line… she was going to lose #12 and #13, leaving three teeth missing (12-14).  The way I saw it, she has a choice between placing implants or a partial denture.
I began to present her options.  I started with implants.  And before I could finish my first sentence, she shook her head and said, "No way I will do implants."
OK… why not?  (It could be for a variety of reasons.)
"They're too expensive."
OK… I understand that.  They ARE expensive.  But, may I finish explaining the advantage of implants in your case?
"Yes."
And, so I did.  I also explained the other option – a partial denture.  She shook her head on that one, too.  We talked about it being removable and having visible clasps.  I also explained why a traditional fixed bridge is not an option.
In the end, I recemented her bridge with temporary cement and agreed to send the information to her dentist up north and her retired dentist friend.  We also gave her a printed treatment plan with fees.  The plan was for two implants (#12 and #14) with a 3-unit bridge and a single crown #15.  We also presented the fee for a partial denture.  She'll be down here until March.  I don't think that bridge is going to make it.
So… How do you handle these situations?  Any different from what I've presented here?  Post your comments below!

Copyright protected by Digiprove © 2015 The Dental Warrior®