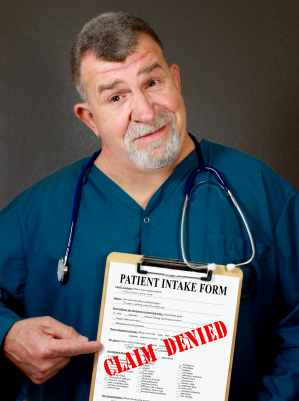 The following is from a thread on Dentaltown.  It has been suggested that dentists should file a class action lawsuit against dental insurance companies for "coercing them into accepting low fees or reimbursement."  In the thread, several dentists share their stories about feeling they have no choice but to go along with the insurance companies ever-changing rules and ever-decreasing fee schedules.
Here is one post.  It is followed by my response.
Quote: (A Dentaltown writer)

I would like to go OON with Delta eventually.  But they're huge here as the Univ of MO is almost all Delta.  Delta will not assign benefits to providers… forcing OON providers to adopt financial measures that would be disastrous to a typical insurance driven practice.  Thus… I feel coerced to stay in network and accept their rates.
Many of you know that I'm not a "participating provider."  But, I hope you'll indulge my comments nonetheless…
I'm reading these stories aloud to my wife (who has ZERO knowledge of dental practice other than just osmosis through me… she doesn't work in my practice in any capacity).
My wife's comment sums it up well… "These dentists are like a woman who is being physically beaten at home.  The only way to stop the beating is for her to LEAVE.  If she stays, she will continue to get beaten.  Leaving may be difficult.  But, it is the ONLY way to stop the beating."
Even though I have never participated in any insurance plan by contract, I check into these threads to see what's going on in my profession.  And, while I have STRUGGLED MIGHTILY to build my truly FFS private care practice, I have often pondered whether I've been an idiot.  I see many insurance-based practices making money hand-over-fist.  I sometimes think, "I'm an idiot."
But, then I read and hear about what insurance-based practices have to deal with.  They tell me, "You have to PLAY THE GAME."  OK… but, the INSCO makes the RULES.  And, I dare say they are smarter business-people than dentists.  Once the inscos figure out the GAMES the DENTISTS are playing to "work the system," the inscos CHANGE THE RULES.  And, in some cases… pull the rug out from under the dentist.
The inscos know that many of these dentists' practices have become DEPENDENT on the plans, as a majority of their patients are on the plans.  On Dentaltown, I'm seeing guys report 60 – 80% of their practices based on contractual participation in plans.  So, they feel they are STUCK.  And, the inscos KNOW IT.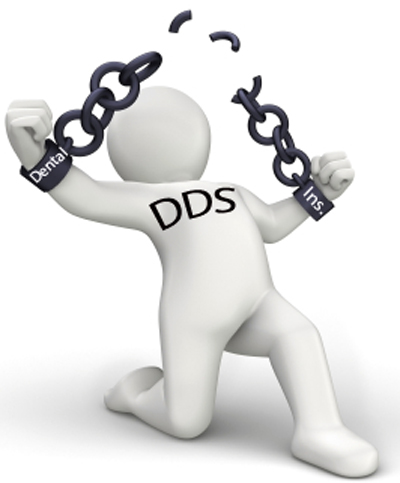 I personally believe pursuit of a class action suit is pissing up a rope.  Shit… you don't even have the support of your own ADA!  Rather, I believe that you should be moving to "PLAN B."  That is to transition or even revolutionize your practices…. to private care.  It's NOT easy!  For a woman to leave an abusive spouse isn't easy.  But, it must be done.
Attracting patients to your practice JUST TO SEE YOU can be a tall order.  But, I've long contended that patients who come to a practice because it's "on the plan," will leave the practice for the very same reason (you're not on the plan anymore).  So, to be a private care dentist, it means you have to get folks in the door ENTIRELY on your own merit.  Scary stuff for some guys.  So, how do you do that?  Hell… I wish I knew the entire magic formula.  But, I know SOME of it.
Getting patients to CHOOSE you over all the other dentists based ENTIRELY on MERIT means you have to have something… many things, actually… that the other dentists don't have (at least in the perception of the patient).  Those things may include (but not limited to):
Spending TIME with patients.  REAL time… talking… answering questions…. LISTENING.
Learning new skills and providing elective or enhanced treatments at a very high level (perception counts here, too).  Think "niche."  What niche services can you offer?  Six Month Smiles?  Implants?  Sleep apnea?  Sedation?  Cosmetic smile makeovers?  Full mouth rehabs?  Do all your own endo?  And so on and so forth.
Red carpet service.
Attentive staff.  And, a STABLE staff presence… staff turnover is a turn-off.
Follow-up.
None of this is easy.  None of it is cheap.  And, it will take TIME to implement.  While I have taken the tougher road, I will say that I am thankful to not deal with the insco bullshit described here and on so many other Dentaltown threads.  I am the captain of my ship.  My success or failure rests entirely upon MY shoulders.  If my ship is on the wrong course, I have the power to correct it… without having to consider third party interferences or contracts.  It's all me.
I understand that for some, this is a very frightening proposition.  But, then again… you complain about your "masters" (the inscos).  It is up to you to decide FOR YOURSELF.  What is your destiny?  Who do you WANT to be in charge of your destiny? 
Or are you going to hope that a lawyer is going to soften the blows of your daily beatings?
Also consider the TIME FRAME of most class action lawsuits.  How much time do you have?  What will you do in the meantime?  Plan B… that's what.
I'll wrap this up with some lyrics by the best band ever (Rush):
We go out in the world and take our chances
Fate is just the weight of circumstances
That's the way that lady luck dances
Roll the bones
Why are we here?
Because we're here
Roll the bones
Why does it happen?
Because it happens
Roll the bones
So get out there and rock,
And roll the bones.
Get busy!
So, is it time to turn the tables and tell the insurance companies to "FOAD?"  Comment below!

Copyright protected by Digiprove © 2013 The Dental Warrior®