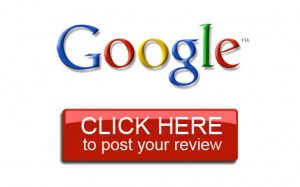 Last December I wrote that online reviews can be a double-edged sword.  That article was primarily directed at independent review sites other than Google's own reviews system.  I remain skeptical of the value of third party review sites, especially those that charge you a fee for "reputation management."
I've reconsidered the potential benefits of online reviews.  But, I will also go so far as to suggest that you focus on Google's own reviews that appear in your Google Places listing.  I'd stay away from any other review sites, especially those that ask you to pay to have control over them.  I simply don't trust them.
Furthermore, having reviews in Google Places appears to have SEO benefits, whereas the other review sites' benefits have been diminished with Google's "Panda" algorithm update.
Ask and you shall receive.
Recently, my friend Jeff Gladnick (of Great Dental Websites), sent out an email newsletter suggesting that dentists ask their patients for reviews on Google.  So, I took him up on it and sent out an email to a select group of my patients, asking them to post reviews on my Google Places page.  Of course, the email had a direct link taking patients to my Places page.  As an added incentive, I included a special offer.  I wasn't sure about adding the "coupon," but I did it anyway.  (Edit:  This may be an issue with Google.  See comments below.  I won't do this again.)
I also recently put up signs in my office with QR codes that would enable patients to easily use their smart phones to access my Google Places page.
The stars are aligning!
This is a very recent effort, so I haven't had an avalanche of reviews posted, yet.  I previously had none.  But, within a couple of days, I got five reviews.  Given the initial success and observed benefits, I will continue to ask patients for reviews.  Incidentally, 5 is the magic number to get the stars graphic (indicating the number of reviews and the average rating) in the Google search results.  See illustration below.
What are sitelinks?
You may have noticed them under certain search results, usually high-ranking websites.  Google will not reveal how they are granted.  But, it seems that they go to sites that have longevity, high traffic, easily navigated / crawled sites, and high click-through rates from search results.  In other words, if your SEO is good, and your site ranks highly, you're more likely to get sitelinks.  See below for an example of how sitelinks look in traditional organic search results.
Another interesting observation is that once I had five reviews, not only did the reviews "stars graphic" show up in the organic search / Places listing, but "Sitelinks" also showed up!  Very cool!  Apparently, sitelinks are relatively new as it pertains to Places listings.  But, they've been around for quite some time in traditional organic search listings.  See below for example of sitelinks contained in Places listings in search results.
Sitelinks are search engine results gold!  They make your listing stand out, AND they physically push the others further DOWN the page.  Awesome!
Mapping for success!
Google reviews also show up in Google Maps.  Some folks use Google Maps to conduct their searches.
And, if the searcher hovers over my "pin" on the map, they also will see the reviews along with an excerpt.
Ask when the emotion is hot.
Another approach to asking for reviews could be right after an appointment when a patient pays you an unsolicited compliment.  "Thanks, Mary!  That just makes my day.  Would you mind posting a Google review for us?"  If your patient isn't familiar with the process, you could have an iPad at your office just for that purpose.  (Edit:  Scratch the idea about using the iPad in your office for reviews… apparentlly there is some concern that a bunch of reviews from the same IP address may make them look suspicious to Google.)

Don't be shy, Dental Warriors!  And, make it easy for them.  Your patients want to help you!

Copyright protected by Digiprove © 2013 The Dental Warrior®