Designs for Vision – Dental Magnification Review
I'm not sure when I started using magnification in dentistry, but I estimate it's been about 17 years.  I started with some 2.5x telescopes from Orascoptic.  They are technically and properly termed telescopes, even though they're commonly called "loupes."  Loupes are technically a device that uses lenses that are single-element… a single piece of glass that magnifies.  Telescopes are multiple-element lenses.
Let there be (more) light!
Just going to 2.5x magnification from the "naked eye" was a tremendous revelation.  But, then I wanted more.  Next I got a fiber-optic headlight (Zeon from Orascoptic) that clipped on to my Orascoptic frame.  Adding co-axial illumination to a magnified field of view is another quantum leap in visibility for a dentist.  And, because it's coaxial, you have perfectly even and bright light whether you're using direct vision or reflected vision with your dental mirror.  Wherever you look, there is light!  LOTS OF LIGHT!
The lights consisted of a light source (big box with a noisy fan) and a rather delicate fiber-optic cable going to the frames punctuated by a reflector and lens clipped to right over the nose-piece.  And, a number of times I got up from my chair without unhooking the cable from the box.   It was always a bit embarrassing when my head whipped back and the box came flying off the counter!
Of course, the box housed an expensive bulb that would burn out and be replaced periodically.  And, eventually, the box would burn itself up or crap out in some way.  At about $500 each, I went through a number of light source boxes.  I also had to replace a fiber-optic cable or two and about $500 each (if memory serves).
I just went to my light box "grave yard."  I have two Orascoptic (Zeon) and two DFV (Dentalite) boxes.
I want more!
As I evolved as a dentist, I wanted even better vision.  I got a pair of 3.5x from Designs for Vision along with a back-up pair of 2.5x.
Incidentally, when you go to 3.5x and higher, there is a noticeable drop in the amount of light coming through.  It's just the nature of optics.  The traditional dental chair light is not enough.  Furthermore it casts shadows, as it's not parallel to your line-of-sight.  You MUST have a headlight if you go 3.5x or higher.
Since getting my 3.5x telescopes, I no longer use my 2.5x for exams or treatment.  I sometimes use the 2.5x in the lab, though… or trying to read the small print in the instructions that typically come with dental materials!
LEDs are da bomb
Years ago it was "all ball bearings."  Today it's all LED.  A few years ago (when my fourth light box kicked the bucket), I got around to buying DFV's DayLite LED headlight.  The LED light source is actually in the headpiece and weighs only 0.5-ounces.  It's connected by a cable to a battery pack that easily slips in your clinic jacket pocket (or can be clipped to your belt).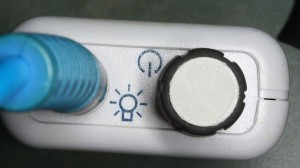 The DayLite comes with 2 battery packs.  They each last about 4 continuous hours.  In my practice, I find they last a full day.  It's not constantly turned on.  While one is being used, the other can be charged.  No bulbs to replace!  The brightness is adjustable by a knob on the battery pack.  And, the quality of light is superb.  The spot of light is very homogenous – no dark spots or hot spots.
Oh CRAP!
Recently, I dropped my 3.5x on the floor.  After catching my breath… Nothing was visibly broken when I picked them up.  But, when I put them on, I saw two of everything.  Not good!  Apparently the frame got bent.  When I squeezed the temples together, the telescopes converged and focused properly.  But, I need my hands to operate.  So, I contacted DFV by email and got a prompt response on where to send them.  I sent them to DFV and had them back (with brand new frame) in about a week.  Awesome customer service.  During that week, I used my 2.5x telescopes and didn't like it!  But, it was better than nothing.
I'm really jonesing for some 4.5x or maybe higher.  So, it's on my "wish list."
Ah…. dentists…
Over the years, I've "debated" dentists about the value of magnification and co-axial lighting.  Many don't want to spend the money.  Some argue, "My vision is fine."  So is mine.  And, some will even argue, "Yeah, but then you get used to it and can't work without it."  Ummmm… YEAH!  And, that's a problem, HOW?   It's true, that once you see things so much better, you don't want to go back.
"Just get a microscope, ya maroon!"
Now, I'll launch a preemptive strike at the microscope fan-bois, who will (rightfully) argue that a microscope is EVEN BETTER.  Surely, it is!  But, here on The Dental Warrior, I've said I strongly advocate for products that significantly improve our work, comfort, and results at a price that doesn't require a loan, conferencing with your significant other, or going hungry.
Surgical telescopes fall into that spectrum of "no-brainer."  Microscopes are quite a bit more pricey and may require some financial planning or forethought.  And, microscopes have a bigger learning curve, not to mention simply changing your operatory to accommodate them.  To be clear, I'm NOT arguing against microscopes.  It's just that telescopes are a bit more "doable" for most dentists.  At the very least, telescopes offer a perfect "stepping stone" to microscopes.
Just do it!
To wrap this up… If you have never used magnification and a headlight before, I can't recommend it highly enough.  It's quite literally a "night and day" experience.  Everything you do is EASIER, faster, and less stressful.  The first time you chase a broken root tip with your telescopes and headlight, you'll be VERY thankful you have them.  Finding canals is easier when the floor of the pulp chamber is lit up.  You'll even see decay that you may have been missing before.
My personal preference (since I've had both) is Designs for Vision.  Click on the link to check them out.  Your mileage may vary!  😀

Copyright protected by Digiprove © 2013 The Dental Warrior®