University of Tennessee College of Dentistry – A "Dream" Review
It's nearly 25 years after graduating from the gruesome experience of dental school, and I'm STILL having nightmares about it.  Literally.  Last night I dreamed that I had to retake a series of tests on the basic sciences.  I was worried I had forgotten too much about the basic sciences.  And, this is not the first time.  I've had "dental school dreams" many times – probably 2 – 3 times a year.
Just to be clear up front…  I love being a dentist.  I guess that should be a foregone conclusion for those who know me.  But, even if this blog is your first introduction to me, the blog alone is evidence enough.  Dental school didn't ruin me for dentistry, thankfully.  I "blossomed" after dental school.  A lot!
I'm 48 years old, and I still occasionally have dreams / nightmares about school.  It really does speak strongly about the mental "trauma" exacted upon us.  I know I'm certainly not the only one.  Many dentists tell me they still have school dreams, too.
Every school is different, and there are some exceptions, but the systematic hazing in dental school seems to be nearly universal.  Full-time faculty were the worst and usually only offenders.  Part-time faculty were sought out by students whenever they were available in hopes of being treated at least humanely.
Mentors?  No.  TORmentors?  Yes.
At the University of Tennessee College of Dentistry (UTCHS), some of the full-time faculty ruthlessly berated students.  It was done in front of other students and even patients in the clinic.  Some instructors were heard bragging to others about how they "gigged" a student.  Lab wax-ups were smashed.  Freshly-placed amalgams were dug at with sharp explorers creating "shy" spots, so they would have to be re-done… again and again.
Dental school… HOO!  What is it good for?  Absolutely nothin'… say it again.
At UT Memphis, some of our instructors even challenged some of my classmates physically when there was a disagreement.  "Boy…. maybe we should step outside and settle this."  This reportedly happened more than once.  This is DENTAL SCHOOL!
Good ol' Dr. Reid, who taught some of my classmates' fathers, was famous for looking at anything you had done and muttering, "Won't work."  He was one of the fairly "harmless" guys, actually.
Then there was "Diamond" Jim.  He made me do my first occlusal amalgam in the ivorine tooth 32 times before passing me.  I think my record still stands.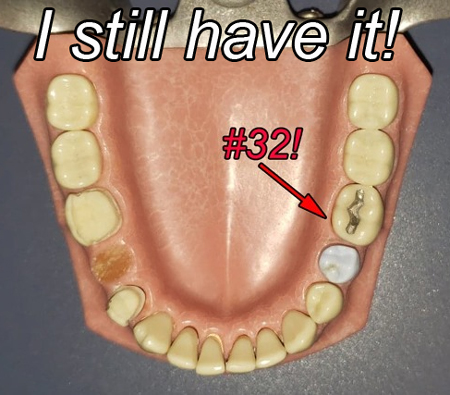 I'm not kidding when I say that joining the Navy right out of dental school was like going to summer camp for grown-ups.  The military treated me professionally.  It was quite refreshing, relaxing, and I learned a lot in the Navy.  I credit the Navy experience for igniting my love for dentistry.  Since then, I've been a C.E. hound, averaging about 100 hours a year.
My ship (USS Independence CV-62) was the first response to the invasion of Kuwait (Operation Desert Shield / Desert Storm).  I was in a WAR ZONE (not in combat), and I DON'T have nightmares about THAT.  Dental school?  Yes.  Persian Gulf?  Nope.
Gee…  Why doesn't anyone want to become a dental school instructor?
Several years ago, the ADA News published a series of reports speculating about the reasons for a shortage of faculty.  Dental graduates were not showing an interest in pursuing academic careers.  I wrote a letter to the editor that was published in the following issue.  (I've looked, and dammit… I can't find a copy.)  In my letter, I did not mince words and explained that our instructors were the antithesis of role models.  It has nothing to do with lower salaries and the perceived rigors of being a professor.  It was simply a matter of abhorring our instructors and having no desire to become one of them.  They weren't mentors.  They were TORmentors.  Who aspires to that?
The letter was published unedited (including calling out the University of Tennessee), and it created quite a stir.  I was swamped with letters, emails, and phone calls from all over the country – all in support and thanking me for writing the letter.  In the following issue of the ADA News, the letters to the editor were all about my letter.  Most in support.  Some against.  Not surprisingly those in opposition included letters from dental school instructors.  Go figure.
Interestingly enough, among the personal letters I received was one from one of my (good) dental school instructors.  He agreed with my points and was apologetic on behalf of his colleagues.
I later heard that some of the students at UT pasted copies of my letter all over the school, leading to some very annoyed faculty ripping them down.  I guess I won't wait for an invitation to speak at UT's alumni and CE meetings.  🙂
One day I got a call at the office.  My office manager said, "Dr. O'Callahan is on the phone.  He says he's from the University of Tennessee."  UH-OH.  I didn't recognize the name.  But, I took the call.  To my relief, it wasn't anyone on the faculty.  Rather, he was a graduate… FIFTY YEARS AGO.  He was now retired.  But, he said this (and I quote, as I'll never forget):  "I just wanted to thank you for that letter you wrote.  Those sons of bitches STILL don't get it.  I graduated 50 years ago, and I'm still pissed off.  I've told Dean Slagle when they finally start treating students right, then he'll see my donations."  This old guy was FIRED UP.  I was laughing my ass off, too.
No love lost
But, the school wonders why alumni donations are scarce.  One of my classmates said, "I wouldn't piss on them, if they were on fire."  Another classmate put it a bit more colorfully, "I wouldn't give them the steam off my shit." 
During my last semester, I had to scramble for those last credits to graduate on time.  In fact, I borrowed more money just so I could actually PAY THE CLINIC FEES for my patients to entice them into treatment.  That's right…  I paid for the patients' treatment, so I could graduate on time.  I finished my last credit on the last day the clinic was open.
Don't worry.  Be happy.
I really love being a dentist.  But, I don't owe a thing to UT Memphis.  And, I'm not looking back (except in my subconscious nightmares).  It is, however, noteworthy that it's VERY common among dentists to have these nightmares.  We WERE traumatized, and nothing good comes from that.  We harbor resentment towards our alma maters instead of revering them.  To my knowledge, medical students do not experience such hazing.  Nor should they. Neither should dental students.  It's simply wrong, but it has been perpetuated as a sick tradition.
I have succeeded despite UT Memphis.  I almost didn't graduate on time.  I re-did my first amalgam 32 times.  For four years, they told us, "the golden years of dentistry are over."  They seemed to enjoy telling us we'd never be successful (like them, HA!).  Thankfully, good friendships among classmates kept us sane.  That… and a steady flow of alcohol.
The best revenge is living well.
But, look at me now, assholes! 😛  I've turned into a darned-decent dentist.  I've been published many times.  I'm on the national lecture circuit.  I even teach clinical courses… outside of traditional academia.  I DIG this stuff!  It's my religion!  Get me talking about dentistry, and you won't get me to shut up.  It's guys like me that you WANT as faculty.  Well, logic says that you'd want guys like me.  But, you sear our brains with your extreme negativism and hazing, leaving us with no desire to even step foot on campus again.  Donations?  Not if your very existence depended on it.
Now… GET OUT OF MY DREAMS, will ya?  🙁
PS…  I just noticed this is my 88th blog article.  I graduated dental school in '88.  Coincidence??
PPS…  I've been a prolific photographer since I was 12 years old.  I didn't take a single photo inside the UTCHS College of Dentistry in Memphis.  There wasn't any memory there that qualified as a positive one to be recorded.  Not one photo of actual dental school.  Hmmmm…