About a month ago, we had a close call with Hurricane Dorian, which was a "Cat 5" and got within 100 miles of us.  In the process of putting up my shutters, I smashed the tip of the ring finger on my left hand.  It hurt, but I "walked it off" and continued putting up the shutters.
It never turned black and blue, but it just kept hurting, especially if I put pressure on the distal end of the finger.  I wrapped it in tape, but that wasn't stabilizing it very well.  I tried a number of finger splints from the drug store.  I even got some off Amazon.com.  They were all bulky and didn't fit well.  Putting on an exam glove over the splint was difficult. 
The discomfort (with any pressure) continued, so I took an x-ray.  It clearly shows a fracture of the distal phalanx.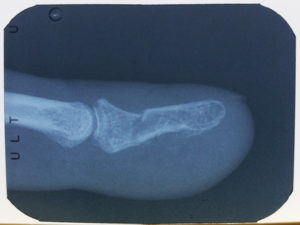 This morning I got to the office early and the light bulb (in my head) went on.  I could make a custom splint!  But, how?  With which materials?  Acrylic?  Bis-acryl?  Hold on a sec… what about using clear retainer material?  Thin and stiff!   OK… here's a pictorial of how I did it.
So… all those years of training, continuing education, and experience have qualified me to do THIS.  😀   Comment below!

Copyright protected by Digiprove © 2019 The Dental Warrior®