Just a quick and dirty case presentation.
A new patient came to me last week for a consultation about "bonding" a space between her teeth.
She had been to a another dentist who had closed the space with "bonding."  It fell out three months later.  She went back to have it done again.  That time it fell out a week later.  She was interested in ONLY closing the space.  Of course, I looked around, and could easily treatment plan a BUNCH of stuff.  There was evidence of wear secondary to parafunction (and possibly acid reflux), including significant attrition and "dentin pools."  There were also other restorations that were fairly rough.  She needs a comprehensive approach.  But, over the years I've learned to address the chief complaint and THEN have the "comprehensive discussion."
She wanted to know if I could close the space with bonding and have it stay (not fall off).  Sure I can!
This case is nothing special, but it's WAY better than where she started. Definitely not a "brag" case.  But good enough.
Unfortunately, I forgot to take a true "before" photo.  I got excited about stripping the remaining old composite on #7 and #8 and got started.  Then I remembered to take the "before" picture.  So, part way through the stripping, I took a "before" shot.
I didn't have time to take photos of every step. But, here's what I got!
The patient was very happy with the result!  Hopefully, she'll be back for more comprehensive treatment.
The advantage of the contoured Bioclear matrix should be obvious.  Using a traditional mylar strip will create an unnatural straight emergence profile with a small proximal contact towards the incisal.  The Bioclear matrix creates a natural emergence profile that supports the gingival papilla while also making a broad proximal contact.
Bioclear offers hands-on courses, but I would recommend at least watching their technique video for diastema closure.  The system works VERY well.  It's not cheap, but the time saved and the superior results make the purchase worthwhile.  Of course, you have to charge a fee commensurate with your time and expertise.
Check out Bioclear's website here.
Update August 2018:   A more recent case of a midline diastema with Bioclear matrices.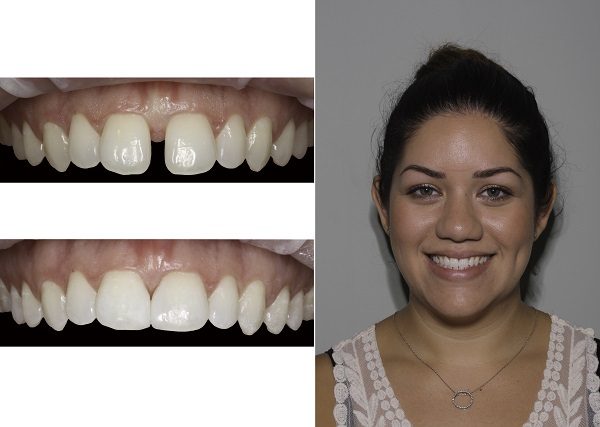 Copyright protected by Digiprove © 2017 The Dental Warrior®