Many of you know that I've long been a "do-it-yourself" guy when it comes to website marketing for a long time (17 years).  Perhaps to a fault.  Though I've been a DIY marketer, I have always been clear in my acknowledgement that it's not realistic for most dentists to do it all themselves.  In fact, I've largely advocated against it.  But, I've leveraged my own DIY experience as a way to advise dentists on how best to vet and utilize the services of marketing professionals.  Furthermore, as time has gone on, and my free time becoming more scarce, I have also used the services of dental marketing professionals.  If you consider the advent of Social Media, the burden of doing it all yourself becomes even more daunting.
Assisted Do-It-Yourself Marketing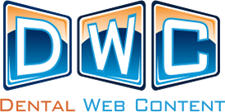 I've been using and testing a new dental marketing service for several months now.  It's called "Dental Web Content," brought to you by the marketing geniuses at New Patients Inc.  I would describe it as the perfect and affordable blend of DIY with professional help.
I have LONG preached that "Content Is King."  And, I'm sticking to my story.  Unique, compelling content will win the marketing day.  But, I've also learned that many dentists are not comfortable in creating all their own marketing content.
Dental Web Content is a HUGE library of tested customizable online and offline marketing pieces that include:
Videos – for use in social media (Youtube, Facebook, etc.) or on your website.
Brochures
Social media posts (Facebook) with copy and images.
Radio ad scripts.
Press releases.
Office forms – patient registration, health questionnaire, HIPAA, photo model release, etc.
Website landing pages – content for special, trackable destination pages on your website.
Mailers – both snail and email.
Print ads.
Billboards.
Post cards.
And "so much more!"  Really!
When I say "huge library," I really mean it.  It can actually be overwhelming if you try to take it all in at once.  I recommend doing it in bite-size pieces.  I've been at it for several months, and I've barely scratched the surface of this smorgasbord of marketing materials. 
Pick a marketing project, topic, or idea you've been thinking of doing and search the Dental Web Content library for material pertaining to it.  Complete that project and then move to the next idea or topic.  Create a "boosted" video ad for Facebook about one of your services.  Make a flyer to display in the office.  Create a new web page on your website about a marketable service or amenity in your practice.  Create a new email blast to send to all your patients.  Pace yourself.  Rinse and repeat!
Plug and Play!
Some of these pieces, like internal practice brochures, print ads, website copy, post cards, and mailers are ready to go after the end user (you) insert your own practice information.  No waiting.  You download it, plug in your practice info, and then send it off to your printer, post it on your practice Facebook page, send it off in an email blast to your patients, or have it inserted into your website by your webmaster.
Other products, like the videos, are customized by the folks at New Patients Inc.  Once you have an account, you just put the product in your "Backpack" (aka "cart") and place your order.  In a few days, you'll receive a link to download your customized video with your practice information embedded in it.
Post the video on your Youtube channel, Facebook page, or in your website.  Show it to your mom!  Or all the above!
Statistically proven effective!
The masterminds behind this library of tested content are Howie Horrocks and Mark Dilatush.  They have literally decades worth of data proving what works, and more importantly, what doesn't.  Mark Dilatush eloquently told me, "Our much larger library of crap that didn't work, is not available for subscription."  😆
So, what's the deal?
OK, here's the cool part.   It's a subscription service with no annual contract.  There are three subscription levels:
| | | |
| --- | --- | --- |
| Level | What you get: | Cost: |
| 1 | Six animated videos over 12 months | $67 / month |
| 2 | Twelve animated videos over 12 months and unlimited access to all other content. | $87 / month |
| 3 | Twenty-four animated videos over 12 months and unlimited access to all other content. | $147 / month |
I recommend getting at least Level 2, so you have access to the other content.  It's worth mentioning again that there is no annual contract.  I really think the pricing is a bargain, given the seemingly bottomless supply of content and considering the qualifications and reputation of NPI.  By way of comparison…  The last year I had a Yellow Pages ad (2007), I paid $225 / month for a SINGLE BOLD LINE listing!  And, I got SQUAT in return!  Dental Web Content is a value-packed cornucopia of proven marketing material.
New Patients Inc now also offers the NPI Concierge (online scheduling) and NPI Crusader (reputation management).  If you bundle those services, there are significant savings (effectively making the DWC subscription as low as $1 / month).  I will be reviewing those services in future articles after I gain some experience with them.
Get crackin'!
Once you are subscribed, you can search the DWC Media Library for a specific marketable dental topic, like:  implants, veneers, bruxism, Botox, Six Month Smiles, Invisalign, dentures, whitening, sedation, dental technology, CAD / CAM, convenient location and hours, financing options, insurance acceptance, office amenities, and on and on and on!  Seriously, I can't think of any conceivably marketable practice attribute that isn't covered in this tremendous library.  And, they are constantly adding more content!
If you can't find what you're looking for, ask them!  They are very responsive to requests.  They've already created some new ads based on my requests. 
Ultimately, our goal as marketing dentists is to build our practices.  The bottom line is that dentists will save money AND time implementing effective marketing strategies with Dental Web Content.  Check it out!

Copyright protected by Digiprove © 2017 The Dental Warrior®