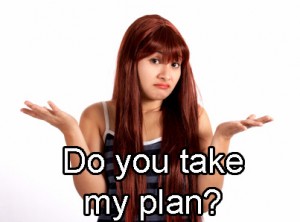 We all get phone calls and emails from prospective patients looking for a new dentist.  Very often the only question these prospects ask is, "How much is ________ (a cleaning, a crown, an extraction, etc.)."  Another common question is, "Do you take my insurance / discount plan?"
As a private care dentist, I reflexively cringe when I get these questions.  Why?  Because the answer to the question is likely not what the prospective patient wants to hear.  My fees are not "cheap."  If they're asking about "price," then that's all they care about, right?  Maybe.
If they ask about an insurance plan (I don't participate in any as a contracted provider), then all they care about is that, right?  Maybe.
Answer the ****ing question!
Oftentimes, it is all they care about.  But, it's not necessarily the case.  I have heard all the practice management experts suggest that prospects ask those two questions, because it's all they know to ask.  And, I think that's true.  BUT…  The experts commonly suggest you effectively avoid the question and try to lure them in for an exam or consultation.  They recommend asking the prospect questions about other things like "which kind of crown are you looking for?"  Or, "Are you looking for a quality dentist?"
And, I've even tried these approaches.  They.  Don't.  Work.  People see through the evasion.  I, as a consumer, HAAATE that Zig Ziglar sales shit.  It's 2016.  I'll walk every time someone resorts to that.
Answer the question!  Be honest!  Don't avoid the question.  People hate that.  But, you can do MORE than just answering the question.
How much would you pay now?
I have found that when it comes to prospects asking about fees, in particular, no answer has resulted in them making an appointment.  If I tell them the fee outright, they move on.  I'm not the cheap guy in town.  If I try the experts' advice, they also move on.  I don't think I've ever converted one who asked about fees first.  Fees are a tough topic, and while I am jaded at this point, I'm open to any new ideas.  Comment below!
Are you on my plan?
I recently got an email from a prospect through my website.  It was Sunday morning at 10:34 am.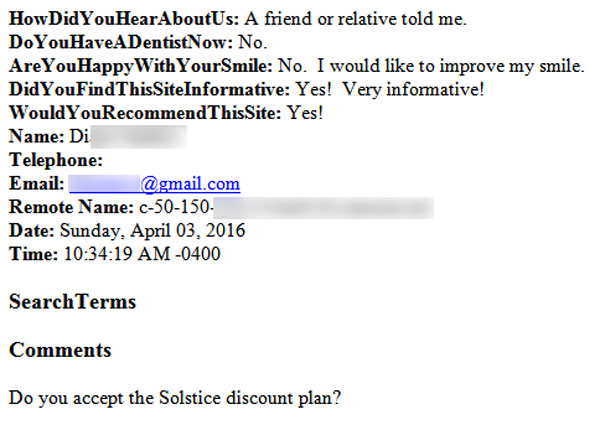 I answered the email in short order.  Sunday 11:07 am.  Answer your emails!!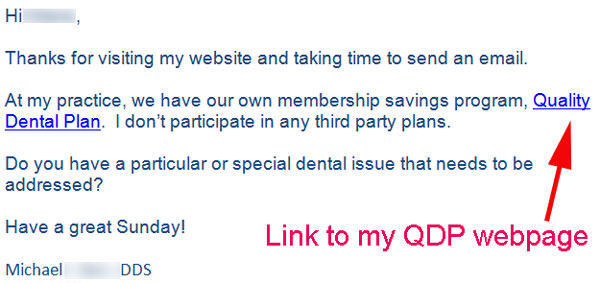 So, I answered her question directly.  But, I didn't JUST answer her question.  I mentioned that I have my own savings plan, Quality Dental Plan.  I also asked HER a question.  I asked her a very specific, yet OPEN, question.  I honestly did not expect to hear back.  But, I did!
Sunday 11:40 am:

Again, I replied promptly.   Sunday 12:22 pm.

The following Tuesday, we got this email appointment request: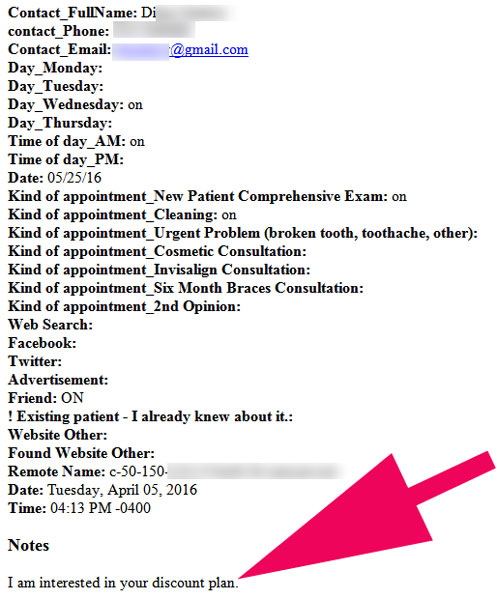 My office manager called her back and set up an appointment for her AND her mother.  We've already received copies of their x-rays from the previous dentist.
The moral of the story:  Even when you think it's an exercise in futility, try to establish a RAPPORT with the prospective patient.  But, in my opinion, it's a big mistake to avoid the question as the "experts" advise.   I recommend answering the question, but don't JUST answer the question.  Ask the prospective patient your own question… one that will start a conversation.
Click here to read a previous blog post about a very similar prospective patient inquiry, where my reply did NOT work.
Chime in with your ideas, successes, and failures in the comments below!

Copyright protected by Digiprove © 2016 The Dental Warrior®