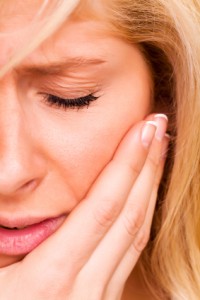 My friend and fellow dental blogger, Dr. Alan Mead just posted a great article, Don't just do something, sit there!.  In it, he discusses a particular emergency patient he saw recently with whom he couldn't yet identify a dental issue.
Dentists are trained diagnosticians and surgeons.  Our prime directive is to find a problem and solve it!  Sometimes, when we can't find the cause of a problem, we STILL want to solve it and do SOMETHING.  Alan's article wisely suggests that sometimes it's better to do nothing.  And, it inspired me to write.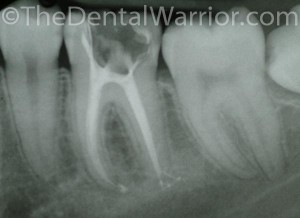 In the day-to-day world of dentistry, most toothaches are successfully eliminated with either root canal treatment or extraction of the offending tooth.  And, most times, this is the correct course of action.  However, I think some dentists may be predisposed to jumping to that conclusion even in the absence of definitive proof.
Sometimes it is a tooth.  CTS?
Cracked Tooth Syndrome can be vexing and difficult to diagnose.  Duplicating the symptoms is sometimes difficult.  Patient descriptions of the symptoms can often be helpful (if you LISTEN).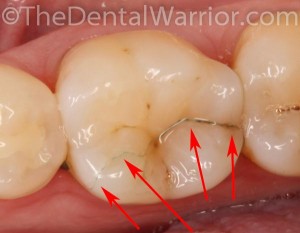 Yet, other times, the patients have a hard time articulating what they're feeling.
The "Tooth Slooth" is a valuable tool in isolating a tooth that is suffering from CTS and eliciting clinical signs that may lead to a diagnosis.  Then you may have to distinguish whether the tooth is cracked or actually split.
Occlusion!
Occlusal issues are often overlooked by dentists, as well.  A sensitive tooth may not always be an irreversible pulpitis.  I've been amazed at how often it's an occlusal issue.  Check occlusion!  But, don't just check centric occlusion.  Check excursions, as well.  Many disbelieving patients have later thanked me for adjusting the bite rather than doing a root canal or extraction.
Maybe it's not a tooth.
As my friend, Dr. Alan Mead, mentioned in his blog, a sore upper tooth may be a sinus issue.  Accordingly, you may want to consider the rest of the body attached to those teeth, especially when no dental etiology is apparent.  The rest of the body can refer pain and other symptoms to the mouth and teeth in a number of ways.  If you're having trouble finding a dental reason for the patient's complaint, stop and consider that it may not be a dental problem.
To be clear…  This blog article is not intended as a complete tome on relating oral signs and symptoms to any and all varieties of systemic medical issues.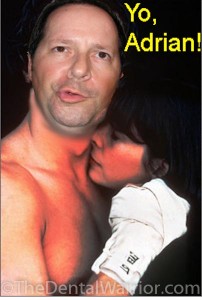 My mission is simply to encourage dentists to think outside the "dental box" when faced with elusive diagnoses.
A number of medical maladies can refer pain and other symptoms to the oral cavity.  Among those are:  heart attack, trigeminal neuralgia, Bell's palsy, burning mouth syndrome, temporal arteritis, Sjögren's, angioneurotic edema, sinusitis, and even multiple sclerosis.
Keep those in mind when "dental pain" is not accompanied by OBJECTIVE clinical signs or evidence of dental pathology.  Don't treat teeth on a "hunch."  Consider medical issues that may not be dentally related, and consider that the medical issue may be urgent.
 An illustrative story….
Several years ago, I had a new patient (a 70-something year old male with a fairly clear past medical history) come into my office in agony.  Of all the emergency patients I've seen in my career, I'd say this patient's pain was the most remarkable.  He could hardly talk.  He pointed to his jaw on the lower left side near the premolar area.  He was literally writhing in pain.  When I simply touched the area with my hands, he winced.  Careful clinical examination with a mouth mirror revealed nothing out of the ordinary.  There was no visible decay, inflammation of soft tissues, or swelling.  Furthermore, I could not see any damage of any kind to his teeth.
We managed to get some x-rays with great difficulty (due to his pain).  The x-rays did not reveal any pathology.
Perplexed by the absence of any obvious dental issues and the degree of his pain, I resorted back to interviewing the patient.  I asked the usual "dental" questions about what makes it hurt and what makes the pain go away.  No temperature sensitivity.  No pain on chewing.  It was a constant stabbing pain that could be exacerbated simply by a touch of the hand.
Still getting nowhere with the usual dental questions, I asked a very simple question.  It occurred to me that MAYBE this patient had experienced similar symptoms before.  And, MAYBE he could tell me what it was.
Me:  Have you ever had pain like this… this severe…  before?
Patient:  Yes.
Me:  Tell me about it.
Patient:  It wasn't a tooth problem.  It was something else.  I can't remember what it was called.  I had to go to a neurologist for an injection (in my head).
Me:  Was it trigeminal neuralgia?
Patient:  YES!  That was what it was called.
Me:  How long ago was that injection?  (I knew that those alcohol injections last about 5 years)
Patient:  About 5 years ago.
Me:  You need to see your neurologist again.
It turned out to be a recurrence of trigeminal neuralgia.  Unfortunately, these TN patients often go through unnecessary serial root canals and extractions before the proper diagnosis is rendered.  Not on my watch!  🙂
Watch and wait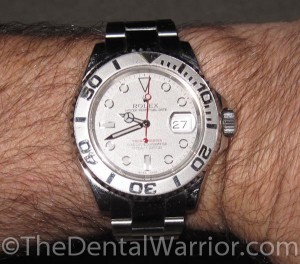 Sometimes signs and symptoms are vague, and the prudent thing to do is watch and wait.  Some aches and pains are idiopathic and fortunately transient.  If there is a real, treatable problem, it will eventually become evident.  Don't be afraid to admit you simply aren't sure what it is and refer to a dental or medical specialist.

Copyright protected by Digiprove © 2013 The Dental Warrior®