Shit Happens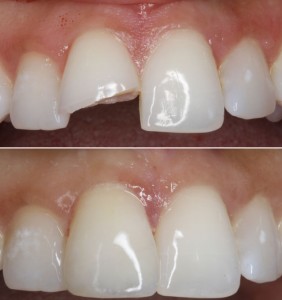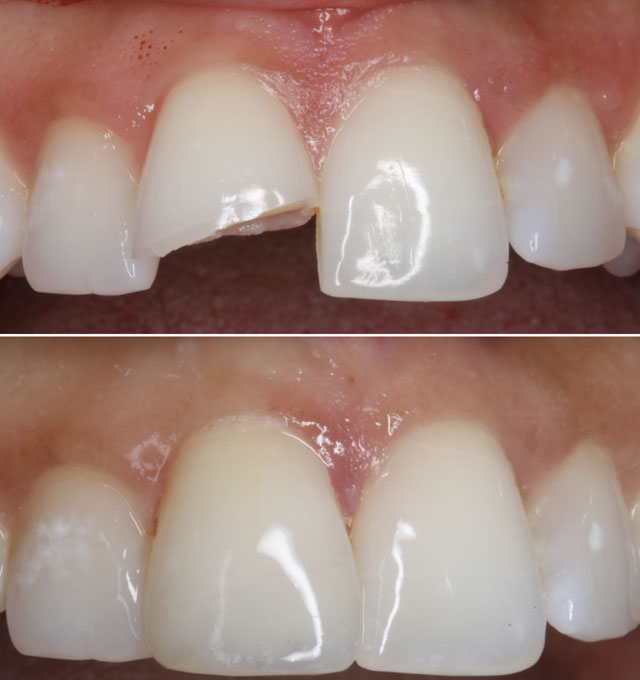 Last September a new patient came to my office via my website.  She was dancing and shit happened.  She broke half of tooth #8 off.  I had recently bought Ultradent's "big crayon" Vit-L-Essence composite kit but had not really tried it out.  I figured this was as good a time as any.  Let's take it for a spin and see how this stuff handles!  Some of you have seen this composite case before, as I published it on a number of dental forums.
But, this story goes beyond this particular restoration… read on.
First I'll show you how we restored this tooth with a direct composite, step-by-step.  I was particularly proud of the result!  🙂
My new emergency patient was thrilled with the result and became a regular patient.  She also decided that she wanted straight teeth.  Six Month Smiles short term orthodontics was the perfect solution.  And, so we went forward with that.
When my patient was happy with the results, we debracketed and placed fixed bonded retainers.  That was last month – April.
Shit Happens Again!
Then, a week and a half ago, she calls my office on Monday morning.   Over the weekend, she had another accident.  She fell down on a table at a pool party, and shit happened… again:
Ugh!!  Hate to see this!  Patient was devastated.  She was very swollen and sore.  She also had a broken nose and a broken finger.  I couldn't even lift her lip to take a look.  Just no way to do anything.  So, I prescribed a Decadron dose-pak to help with the swelling and rescheduled her for the following week.
When she came back she looked and felt a lot better.  The Decadron worked very well.
Now, I had to figure out a way to give her some front teeth quickly.  So, I made an impression and poured it up in quick-set stone.  Then I took her avulsed teeth and cut off the roots and shaped them to fit onto the model.
After verifying it fit in her mouth (I had to anesthetize her), I filled the missing teeth spaces with a hybrid composite and reseated it.  Then I removed it and used an explorer to remove the flash.  Seated it again confirming that everything was adapted nicely.  Then I removed it and cured outside the mouth.  I didn't want to take a chance curing it in the mouth and getting locked in the proximal undercuts of the lateral incisors.
It's not the perfect result, but she was just happy to have something.  This was a "quick fix."
Next I sent her to the periodontist for evaluation for implants.  He believes that #7 is a goner, too, and the buccal plate is fractured.
Stay tuned.  I'll do a follow up when we've made progress in giving her a long-term result.

Copyright protected by Digiprove © 2013 The Dental Warrior®