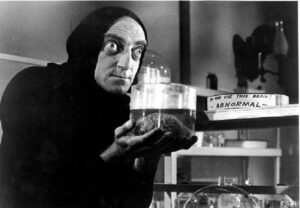 Many times, I've been asked why I refuse to comply with the new rules or indulge the "new ABnormal."  I've been called every name "in the book."  Someone told me she hopes I get sick and "a tube is jammed down my sorry throat."  Others have wished me dead.
"In a time of universal deceit — telling the truth is a revolutionary act." – often attributed to George Orwell, but never confirmed.
Transcript for the video below the jump:
I've seen social media posts by well-meaning friends who have argued that wearing masks and maintaining the arbitrary 6 foot distance from others is just "doing what's right."  They claim, "I'm doing it for you, not me."  "I want to be part of the solution, not the problem," they say, which of course implies that those of us who do not comply are "the problem." 
They go on to boast about their contribution to society and further imply that those of us who do not comply believe the world revolves around them.  The non-compliers are selfish.  They are assholes.  They deserve to get sick and die.  I've heard every one of those.
It's rather curious that those who are quick to don the mantle of "tolerance," and claim the moral high ground, really show their colors when someone disagrees with them.  Some can get very ugly.  They default to vile name-calling, and some get vicious, to the point of death wishes and threats of violence.  Yep… I've heard them all…. For daring to question the motives and logic behind the orders to shut down.
Self-flagellation and economic self-immolation are all the rage now.  I draw the line at their insistence that the rest of us follow suit. 
They cannot imagine another person standing on principle, even if it means standing OUT.  They believe that consensus equals truth, and it shall not be questioned. 
It takes only one person to be right.
I do not claim to speak for others who have refused to abide and comply.   I can speak for me.  My refusal to comply with unconstitutional orders and rules is far from selfish or believing the world revolves around ME.  I AM concerned about my family and their future.  I am concerned about the preservation of their Freedom and their Rights.  I am very concerned for the country's future.
When I joined the U.S. Navy, as an officer, I took this oath:
I solemnly swear that I will support and defend the Constitution of the United States against all enemies, foreign and domestic;
that I will bear true faith and allegiance to the same; that I take this obligation freely, without any mental reservation or purpose of evasion;
and that I will well and faithfully discharge the duties of the office on which I am about to enter.  So help me God.
That oath had no provisions for expiration.  The oath did not stipulate exceptions, such as national emergencies or pandemics.  The oath was not conditional.  The oath was ONLY about defending the Constitution against ALL enemies, foreign AND domestic. 
The oath was not a ceremonial platitude.  It literally implicates the sacrifice of your own life in the defense of the Constitution.  And, four of my shipmates and their families paid that ultimate price.  So, yeah… I take the defense of the Constitution very seriously.  The defense of the Constitution is the very OPPOSITE of "selfish." 
Likewise, when the Bill of Rights was written and ratified, it did not include provisions for exceptions or special conditions. 
I refuse to comply with orders to stay home… who I can associate with or where I can go…  or what to wear… or whether I can work, depending on whether my job is "essential" or whether I'm a member of the new underclass called "non-essential"…  These orders that infringe OUR 1st and 14th Amendment Rights is the LEAST I can do to support and defend the Constitution right now.  Again, it's the LEAST I can do.  It's the least WE can do. 
Self-sacrifice has turned into a virtue-signaling opportunity for those who seem starved for attention.  And, if complying makes you feel good or righteous, good for you.   But, anyone who dares to question authority or the "new normal," is publicly and socially shamed.  The social pressure to blindly comply is tremendous.  Lucky for me, I'm immune to that. 
Edit to add:  I am reminded of the episode of Seinfeld when Kramer joined the AIDS Walk, and refused to wear the AIDS Awareness Ribbon. 
Event check-in lady:  You have to wear the ribbon.
Kramer:  See… that's why I don't want to.
Kramer (later in the clip):  This is America!  I don't have to wear anything I don't want to wear!

Copyright protected by Digiprove © 2020 The Dental Warrior®