OK… So, by now most of us have witnessed the full-on panic in America.  It's crazy.  If I'm honest, I will say that I don't suffer fools well.  I admit that I am contemptuous of those who adopt the "herd mentality."  And, man are we seeing that!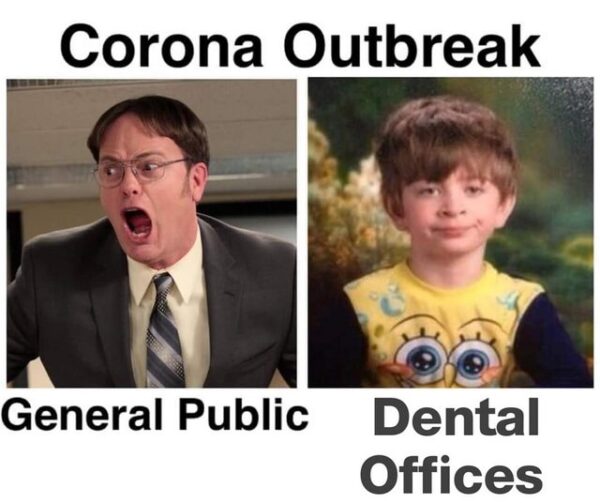 Like many practices, mine has seen a lot of cancellations or simply delaying scheduling planned treatment.  Next week's schedule is full of holes.  Big holes.  What to do?
First, I sent out a mass email to my patients to allay their concerns as it pertains to Coronavirus and dental treatment.  You can see that email here.   I also posted it on my practice Facebook page and my practice blog. 
Then it occurred to me that I might incentivize scheduling next week.  So, I sent out another email yesterday:
Corona Update #2 and Special Offer!

Hello again from Dr. Mike with another Corona update…

Our dental office is probably the cleanest, safest place you can be.  Plus, we don't have a waiting room full of sick people.  No crowds here!

We've got some appointments available next week, March 16 – 19.  If you have pending treatment, we would like to extend a 15% savings to you, if you schedule during next week only (March 16 – 19).  If you are already scheduled, and keep your appointment, we will offer the same savings.  If you are a member of our in-house savings plan, we will offer either your applicable PBSS savings or 15%, whichever is greater.  Act quickly, as I think the schedule will fill up very soon!  Now is a great opportunity to take care of yourself and save some money.  One week only, limited availability.

Besides sterilizing everything that isn't disposable, we pretty much "hose down" all other contact surfaces (even the front desk and counter) with a hospital-grade disinfectant that effectively kills Coronavirus.  It also kills MRSA ("mersa"), HIV, and even Hepatitis C, which is considered one of the most difficult pathogens.  It's good stuff!  It works, even for things far worse than Corona.  We do this every day.  This is known as "universal precautions." 

Call us at XXX-XXX-XXXX.  We are closed for the weekend, but Jo-Ann will check messages and get back to you.
You can download your own copy of this letter here.  Feel free to edit and use as you wish!
I am not usually one to "discount" my fees.  I am a completely "fee for service" practice (no HMOs or PPOs).  But, I'd rather do that than sit on my hands worrying about my continuing overhead while the chairs are empty.  I'm also trying to keep the mood "light," during this crazy time.  I have no idea if this will work!  😀 

Copyright protected by Digiprove © 2020 The Dental Warrior®