His name was John Katsaros.  And what a lucky day it was!
Today was just another regular day at the office.  I went out to lunch by myself at one of my usual places.  I sat in a booth, facing the front of the restaurant.  As I was finishing up my lunch, I noticed an older couple being seated in the booth right in front of me.  They sat next to each other facing me.  The older gentleman was wearing a hat that said, "Purple Heart – World War II." 
Being a patriotic veteran myself, I felt compelled to buy the couple's lunch.   I've never done anything like that before, but I just wanted to do it.  There aren't many WW2 veterans left alive today.  They are a very special group of people!  I previously wrote about another WW2 hero, Army dentist, Captain Ben Salomon.  When my server dropped off my bill, I asked him to put their lunch on my card, too.  
Since I was done eating, I got up and stopped by their table and said, "I just wanted to thank you for your service, and lunch is on me."  They were quite surprised.  They asked my name and then asked me to sit with them.  A lovely couple.  Married 61 years!  He's now 97 years old.
We chatted, and he was quite eager to share his story with me.  He was a waist gunner on a B-17 Flying Fortress (bomber).  Hard core stuff!  His plane was shot down over France.  Three of his crew were killed in the aerial gunfire.  The rest bailed out of the plane at 27,000 feet!  He said at that altitude you pass out from a lack of oxygen and hope you wake up in time to pull the parachute ripcord.  His right arm was shattered by a bullet when his bomber was shot down.  He broke several ribs and both ankles when he hit the ground. 
He was captured by the Gestapo.  Escaped.  Captured again.  And escaped again with the French Resistance.  A Jewish doctor hiding in a cellar performed surgery on him to save his gangrenous arm.  That was the arm that shook my hand today.  He spent three months escaping all the way to England.  He even wrote a book, "Code Burgundy – The Long Escape." <– link to his website
He gave me a business card that had his website.  I googled him, and found this interesting news story (with video). 
I was so fascinated with his story, I was late back to the office!  But, the encounter made my day!  What a cool guy.  His wife, Mary, beamed as he told his story.  I feel lucky to have heard his story first hand.  It's men like John Katsaros that preserved the Freedom we enjoy today.  They literally saved the world from evil.  What a great day today was!
PS…. My last patient of the day was also a WW2 veteran!
Update 1/30/20:  John came by my office today with a copy of his book, which he autographed for me.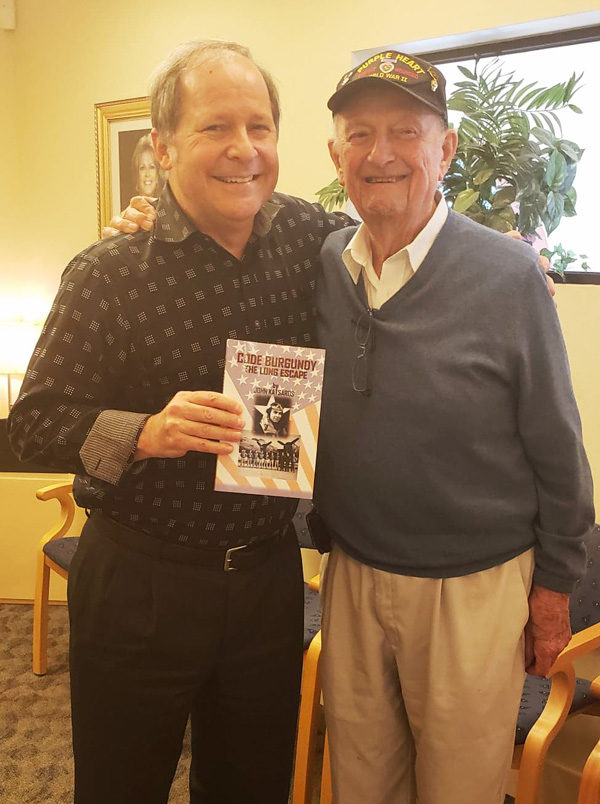 Edit to add:  I have learned that John Katsaros passed away.  His obituary here.  I feel truly honored and thankful that I got to meet and know him a bit.