I just learned about U.S. Army dentist, Captain Ben L. Salomon.  And, wow!  What a story!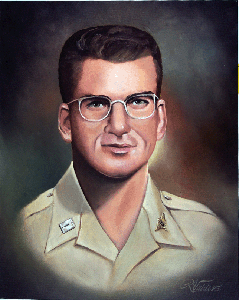 Dr. Ben L. Salomon was drafted into the Army in World War II.  He ended up as a front-line surgeon.  That's right… in war time, military dentists become trauma surgeons… then and now.  Before I was deployed on an aircraft carrier (which ended up in "Operation Desert Shield"), I had to go through "C4 – Combat Casualty Care Course."
In the Battle of Saipan, Captain Salomon was running a battlefield aid station (only 50 yards behind the first foxhole line) tending to the wounded.  It was overrun by the Japanese enemy.  After killing several Japanese soldiers with a rifle and hand-to-hand combat, he realized the four men manning a machine gun were killed.  So Salomon took over the machine gun and ordered the wounded to be evacuated.  The next day, Salomon was found dead, slumped over his machine gun.  He suffered SEVENTY-SIX bullet wounds and multiple bayonet wounds.  His finger was still on the trigger!  But, before him lay NINETY-EIGHT dead enemy soldiers. 
Here is his Medal of Honor citation.  Read it!  The details are amazing!

Wow!  I'm proud to be a dentist and proud to be a veteran.  I salute Captain Ben L. Salomon!  He IS "Rambo!"  DOCTOR Rambo!
Edited to add this informative video about Captain Salomon(12/4/17):

Copyright protected by Digiprove © 2014 The Dental Warrior®