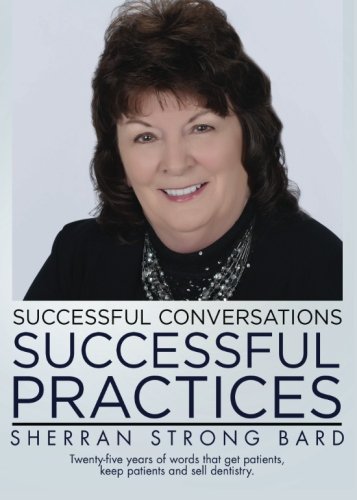 Last week, I spent the day in the hospital with my daughter (getting transfusions and chemo).  I received Sherran Bard's new book a few months ago, but I had not found the time to read it.  I brought it with me to the hospital and finally got to it.
I'll just say that I really found this to be a great book… for a number of reasons.  First, it was easy to read.  Sherran breaks down most every conceivable conversation with patients into multiple short stories.  All the stories in "Successful Conversations" are real, true examples.  If you suffer from a short attention-span, the story format of this book makes it easy to stay engaged.
I read the book in a bit over an hour.  Yes… it's a short book… about 120 pages.  It doesn't need to be long.  This isn't rocket science.  But, it helps to have real world examples of situations we all face in our practices.  It's relatable, and demonstrates a natural, conversational, and effective way to handle those situations.  This isn't about scripts, by the way.  It's about listening and developing relationships.
Another benefit of this book being short and easy to read is that you can ask your team to read it and be fairly certain they WILL read it. It's also very inexpensive. So, don't order just one and inefficiently pass it around.  Order one for every person on your team and hand them out all at once.  A "team assignment!"  It just makes sense to equip everyone on your team with the skills needed to successfully answer the questions they will inevitably get from patients when you're not in the room.  After everyone has read it, have a team meeting and discuss what you've learned!
You can order it on Amazon here:
Successful Conversations, Successful Practices
I've been at this dental gig for 27 years, so I'm pretty comfortable with patient conversations.  But, one thing I've learned over the years… is that I've got a lot to learn.  Sherran's new book is worthwhile to all dentists, new and experienced.
Sherran works as a dental practice consultant and also offers other services and products.  Her website is Dental Practice by Design.  Check it out!

Copyright protected by Digiprove © 2015 The Dental Warrior®