Crime can (and does) happen anywhere.  I'm amused when people rest easy and say, "I'm in a good neighborhood."  Ummmm…  That's where criminals go, because it's where the GOOD stuff is!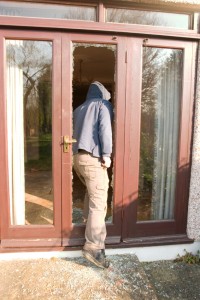 I talked to my dad last night.  He called to let me know he and my stepmother had returned home after a cross-country trip.  They live in a rural area that would certainly be considered a "nice neighborhood."  Their next door neighbor is an elderly widow.  At 2pm (a few days ago while my parents were out of town), the widow heard noise at her front door.  She peered through the window in the door and saw two men unknown to her.  She went to retrieve a pistol left by her late husband (though she didn't know how to use it).  By the time she returned to the front door, the men had broken the window, reached in to unlock the deadbolt, and begun to enter her home.  She pointed the pistol at the men, and they fled.
Another neighbor has reportedly shown her how to use the gun since the incident.
"When seconds count, the police are only minutes away."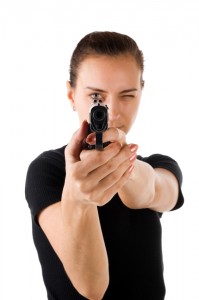 A pithy observation, perhaps.  But, it rings true.  What might have happened, if my parents' neighbor wasn't able to scare the bad guys away?  Would she have even been able to dial 911?  Even if she had time to dial 911, would help have arrived in time to save her?  The obvious answer is, "No."
Many of us have smoke detectors and own fire extinguishers, even though the probability of a fire is very small.  We take many measures (life insurance, flood insurance, seat belts, helmets, etc.) to mitigate injuries or losses that are typically remote.  While the chances of any of them happening is small, the consequences are significant.  Why wouldn't you take similar measures to protect yourself in the case of a home invasion?
My dad is experienced and proficient with firearms (and owns several).   My stepmother has no experience.  They are signing up for a firearms class together.  Good idea.
Edited to add this link.  If you watch the video, you'll see that this happened in a VERY nice neighborhood.  It's where the NICE STUFF is!
Residents in Boca Raton Neighborhood on Edge after Terrifying Home Invasion.

Copyright protected by Digiprove © 2014 The Dental Warrior®