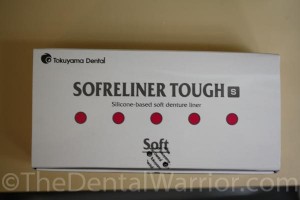 A while back, I posted a review of Tokuyama's chairside hard reline material.  I was very impressed with the material.  Tokuyama thanked me by sending me a sample of their soft reline material.  And, until last week, it sat in my cabinet unused.  Honestly, I don't see a lot of removable prosthetics cases.  So, I had to wait for the right case to come along.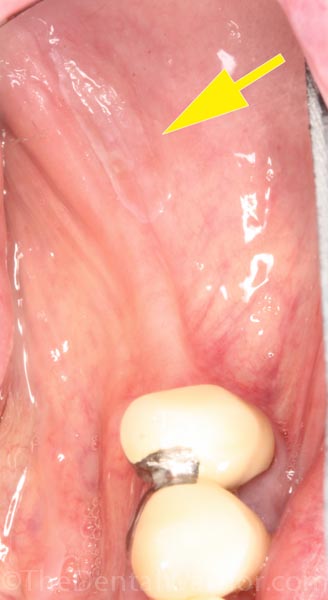 The right case was a long-time patient.  She's had trouble on and off with her lower unilateral partial denture.  We've adjusted it… and adjusted it… and adjusted it.  The ridge is nearly non-existent.
Recently, I noticed a whitish lesion in the area covered by the partial base.  I sent her to an oral surgeon for  evaluation and biopsy if necessary.  The surgeon felt the partial needed adjustment.  And, of course, the patient was complaining that it wasn't comfortable.  I didn't think I could adjust it anymore.  Then I remembered that I had this soft reline material!  So, I gave it a shot.

In my review of Tokuyama's hard reline material, I mentioned that it was so easy to work with.  Plus there was no smell, no exothermic reaction (heat), and no bad taste.  The same is true for the Sofreliner Tough material.  Easy peasy!  The kit comes with everything you need.
Once you reduce the acrylic base and prime it, you simply squirt the reline material onto the area to be treated.  Insert it into the patient's mouth, gently border mold, and let it set.
I played around with the relined denture to see if I could easily get it to delaminate.   I couldn't.  This stuff STICKS to the acrylic.
When I put it back in the patient's mouth, she expressed an immediate appreciation for her newly found comfort!  "Wow!  Much better!"  I thought… "yeah… let's see how you feel in a few days."  In her case, my expectations were low, to be honest.
A few days later, my office manager told me the patient called to tell us how great it felt.  The patient was crying with tears of joy over the phone!
And, then I got this Thank You card: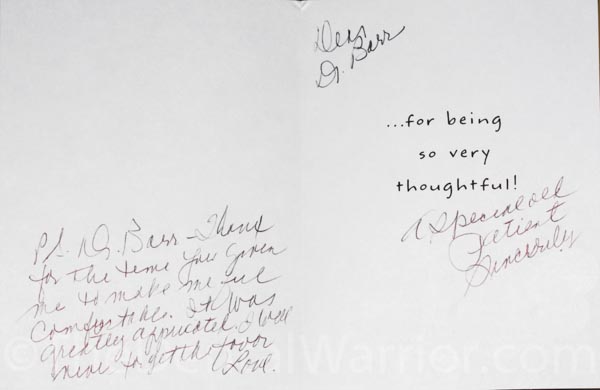 THAT'S what it's all about, folks!
One of the biggest issues with relining existing dentures / partials is that the patient has to be without them for a period of time – sometimes more than a day. They don't like that. These reline products from Tokuyama (hard / soft) eliminate that issue AND are FAR better than any other product I've tried in the past.
If you're looking for an easy-to-use chairside soft reline material, I can highly recommend Tokuyama's "Sofreliner Tough."  No impressions.  No lab.  Instant gratification.  Happy patients!

Copyright protected by Digiprove © 2013 The Dental Warrior®