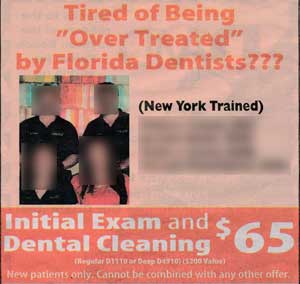 …New York dentists kick Florida ass!
Or so it would seem, if you look at this ad.  My hygienist clipped this from the newspaper over the weekend and brought it in.  See the full ad below (after the jump).
The headline and pitch is a bit tortured and self-contradictory, if you consider that the dentist running the ad is, in fact, a "Florida Dentist."  He's located in Florida.  But, hey… at least he is "New York Trained." 
I'll make a brand new start of it… in ol' south Florida
Well, Sparky… I've got news for ya.   A LOT of dentists in Florida were trained in New York.  They say southeast Florida is the "sixth borough" of New York City.  I suspect most of the dentists in Florida were trained out-of-state.  Not that it matters.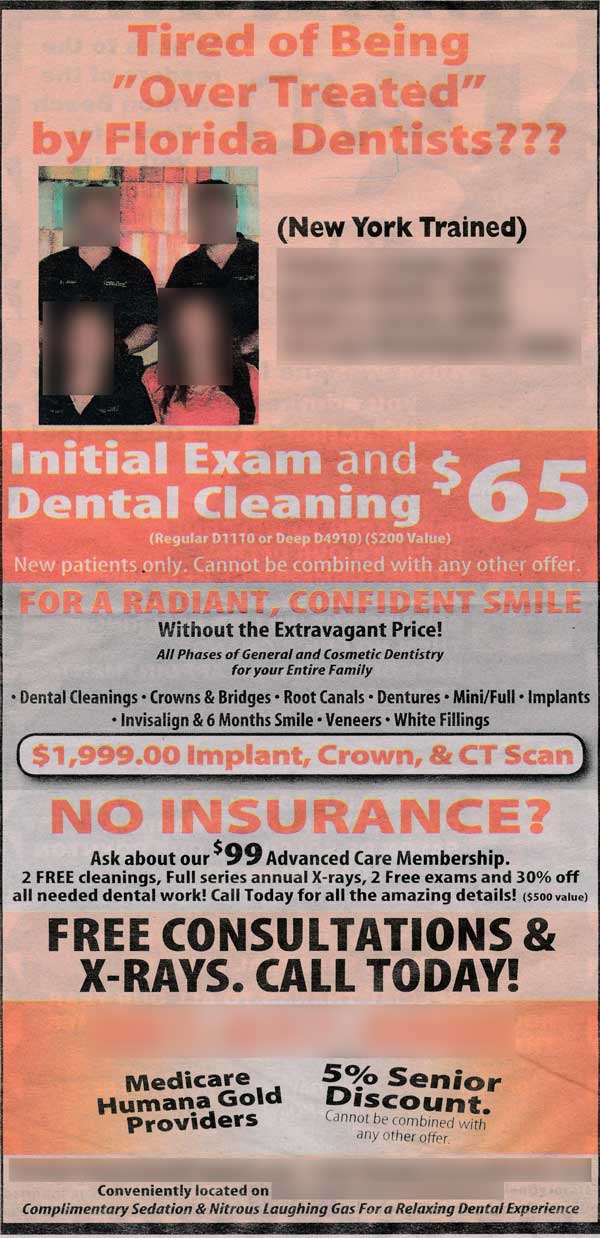 Start spreading the news…
So…  This dentist is "comfortable" casting aspersions at the entirety of his Florida colleagues.  HE'S different.  He's unique among Florida dentists.  Better yet… he's uniquely-trained, because the dental schools in New York are "better" than all the other nationally-accredited schools.
I want to drill a part of it…
Obviously, he's trying to appeal to his fellow transplanted New Yorkers.  And, that's OK.  Mentioning that he's "New York trained," in and of itself is no slight against anyone.  He can be proud of where he's from.  And, it very well may appeal to a demographic in south Florida.  Good on ya, mate!
BUT….  When the headline reads "Tired of being over treated (sic) by Florida dentists???" it crosses a line.  It implicates all "Florida dentists" as committing malpractice.  That's not cool, dude.  While it simply provides fodder for my blog (thank you very much), some dentists may not take too kindly to it and take other actions (not my style).
If I can make it there…
In my opinion, it just reflects poorly on the dentist running the ad.  It's not professional and it smacks of petty jealousy.  It's sophomoric.  It actually insults the intelligence of prospective patients, too.  Booooooo!  We can do better than that AND be effective at attracting new patients.

Copyright protected by Digiprove © 2014 The Dental Warrior®