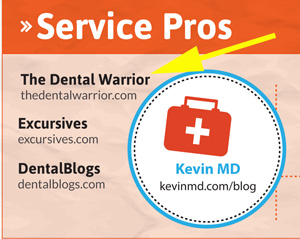 TheDentalWarrior.com was chosen (by Infusionsoft a big marketing firm for small businesses) to be among the Top 50 Small Business blogs to watch!  Very cool!  I'm at the top of the "Service Pros" category in the 2nd section (red) of the infographic below.  Click on the graphic to read the article on their website.
"….the Big Ideas Blog Team has assembled a list of 50 small business blogs that will help you learn strategies from content marketing and effective copywriting to data analysis and social media with a side of the latest technology and PR tips."

Full infographic after the jump….  

50 Small Business Blogs to Watch by Infusionsoft

Copyright protected by Digiprove © 2013 The Dental Warrior®