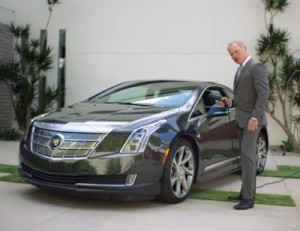 I'm in LOVE…. with CADILLAC (and the dude in the ad)!  As a car guy… well…  Cadillacs just have never been "my thing."  But, I'd buy one JUST because of this ad that ran during the Olympics last night.  This ad speaks my language… an unabashed non-apology for who we are as AMERICA.
I've long been sickened by the American apologists who self-flagellate and prostrate themselves before world's kangaroo court of opinion… presumptuously on OUR BEHALF.  That's bullshit!  Commercial video after the jump…
Update:  It appears the politically-correct won the day, and the video has been scrubbed by Cadillac from the web.  I can't find it anywhere now.  A shame.  (Scratch that… found a copy!  Though you'll have to skip an ad to watch the ad.)  Just in case…  Here is the transcript from the ad:
Why do we work so hard? For what? For this? For stuff?

Other countries they work, they stroll home, they stop by the café, they take August off. Off.

Why aren't you like that? Why aren't we like that?

Because we're crazy, driven, hard-working believers, that's why.

Those other countries think we're nuts. Whatever.

Were the Wright Brothers insane? Bill Gates? Les Paul? Ali?

Were we nuts when we pointed to the moon? That's right, we went up there and you know what we got? Bored. So, we left. Got a car up there and left the keys in it and do you know why? 'Cause we're the only ones going back up there, that's why.

But I digress. It's pretty simple; You work hard, you create your own luck, and you got to believe anything is possible.

As for all the stuff, that's the upside of only taking two weeks off in August. N'est-ce pas? [winks]
A hat tip to Cadillac for saying it like it IS!  We ARE #1.  Anyone can accomplish anything in America.  We are the most powerful, most prosperous, and most free country on the planet.  And, we should NEVER apologize for it.  If I piss anyone off for saying it, so be it.  If you can do better, bring it on.
Recently, a certain political faction here in the U.S. has argued that "work is bad."  They've tried to spin the idea that job loss is a "good thing!"  This way, those people are not victims of "job lock."  JOB LOCK!  One senator suggested that the unemployed will now be able to stay home and cook dinner.  Who's paying for the food?  I wish I was making this shit up.  Instead of working for a living, people can VOTE for a living.
Way to go, Cadillac!  American Exceptionalism is a GOOD THING!  And, I dare say that is the BEST commercial I've ever seen.  Love the "n'est-ce pas" jab at the end
An American's Creed – By Dean Alfange
I do not choose to be a common man
It is my right to be uncommon…
If I can. I seek opportunity… Not security.
I do not wish to be a kept citizen,
Humbled and dulled by having the state to dream and build, to
Fail and succeed.
I refuse to barter incentive for a dole.
I prefer the challenges of life to the
Guaranteed existence; the thrill of
Fulfillment to the stale calm of utopia.
I will not trade freedom for beneficence
Nor my dignity for a hand out. I will
Never cower before any master nor bend
to any threat.
It is my heritage to stand erect,
proud, and unafraid; to think and act for
myself; enjoy the benefits of my
creations; and to face the world boldly
and say, "This I have done with my own hand,
I am a man. I am an American.

Copyright protected by Digiprove © 2014 The Dental Warrior®