"X-rays are like a box of chocolates.  You never know what you're going to get."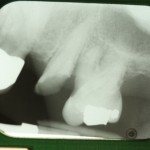 X-rays are a perennial battle we wage with a certain segment of our patients.  Can I get an "amen?" It's really quite odd when you dissect the issue.  I don't believe physicians get the same resistance we get when they ORDER x-rays.  But, it seems the consensus out there is that x-rays are some sort of scam perpetrated by dentists to make extra money.  Of course, that's simply preposterous.  If we wanted to make money surreptitiously, we wouldn't waste time on penny-ante stuff like x-rays.  A dishonest dentist would pursue bigger ticket items, eh?  It would be a lot easier to do it other ways that would be far more lucrative.  Sometimes I think my head will explode when a patient refuses x-rays.  Education simply doesn't work very well when it's up against EMOTION.  Nevertheless, we Dental Warriors plod onwards.  🙂
Today's Patient
Today I had a new patient come in complaining that over the weekend she felt some pain and a swollen lymph node.  To be clear, she did not refuse x-rays.  She was fully in agreement about taking x-rays.  Very nice lady.  But, the title of this blog post will make sense later.
She pointed to the lower left side and mentioned that it feels better now that she's at my office.  (Kinda like that car making the noise that quits when you take it to the mechanic. 🙂 )  She also mentioned that at times the pain radiated to the upper left side. Clinically, I found a couple of broken down teeth – one in the upper left posterior quadrant and another in the upper right posterior quadrant.  But, neither seemed to be a source of discomfort.
I also noted clinically that in the area of #18, the tissue resembled what you would see a month or two after an extraction.  Healed, but not totally healed.  I asked the patient, and she said the tooth was extracted "a long time ago."
My assistant took a couple of PAs of the areas on her left side (source of pain).  We took an upper and lower film just to cover our bases.
Me no likey what I see in the lower PA.  I order a panoramic film.
I don't like THAT at all!
I referred this patient to the oral surgeon.  She has an appointment tomorrow.  Likely benign – something like a dentigerous cyst or keratocyst.  Nevertheless, it needs to be addressed.  She'd be a prime candidate for a pathologic fracture.
"Take a look at this, Mrs. Smith.  This is why x-rays are important."
X-rays like these can be an excellent "educational" tool to use with those patients who are doubtful of their value.  "We don't find lesions like this very often. But, we're sure glad we took these films when we do find them."
In the end, if I cannot convince a patient to have proper diagnostic x-rays, I'm not willing to assume the liability and bid him / her a fair "Alpha Mike Foxtrot." (That's Navy-speak for "see-ya!")
PS…  Follow-up to this case. Incisional biopsy was done by oral surgeon. Diagnosis: Keratocyst. Due to the extensive size of the lesion, she was referred to a university for surgical treatment.