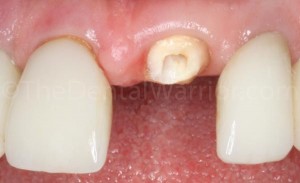 Last week, just before the hurricane was predicted to strike, my office manager texted me on a Tuesday evening, "Broke my #9 off at the gum line!"  Yeah… not a good look for a cosmetically-oriented dental practice front desk, eh?
As it turns out, Wednesday's schedule had pretty much fallen apart.  People were freaking out about the approaching Category 4 Hurricane, "Matthew."  Gas stations had lines for blocks.  Supermarket shelves were being cleared by panicky citizens.  The office phone was silent.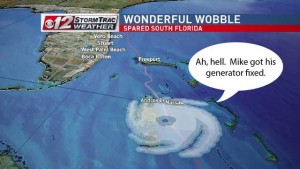 Dental care falls to the bottom of the priority list during a hurricane (unless they're in pain… a lot of pain).
I didn't have a lot of time to document everything.  We all wanted to get home to prepare for the storm.  So, this is a quick and dirty presentation.  (I'll add an image of the radiograph when I get back to the office.)
The long-term viability of the tooth is certainly in question.  But, Hurricane Matthew was bearing down.  Jo-Ann just wanted her front tooth back!
The first thing I did was just see if the existing crown still "fit" on the remaining root structure.  The margins seated fine all the way around.  Continue reading →

Copyright protected by Digiprove © 2016 The Dental Warrior®