Absolutely something!
To continue my story about the new website…  It's been one year since the new website went online.
As I've mentioned before, I built my own website back in 1999.  I read many books about SEO (Search Engine Optimization) and even wrote a full chapter about it in my book, "The Website Owner's Manual for Dentists."  I've written multiple articles on this blog about it, too.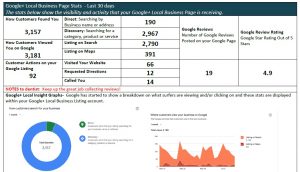 Over the years, I spent a LOT of time tweaking and optimizing my website to show up well in the search engine results pages (SERPs).  And, it worked very well!  I dominated the local results for years.  But, in more recent years, my site was dropping in rank.  Competition has become fierce, and honestly, I had dropped the ball a bit, too.  My life is busy.
A lot of SEO is done in the design of the website.  By "design," I'm not talking about the cosmetic features or how the site looks.  I'm talking about the structure / coding of the site… most of which is "behind the scenes."  But, that's just the beginning.  There is much that needs to be optimized beyond the structural design of the website.  And, that is an ongoing process.  It was time to delegate!
When I turned my website project over to New Patients Inc (NPI), it meant they were taking over all of it in terms of the technical details.  That doesn't mean I'm not participating.  My involvement is still critical, as it is for all dentists marketing on the web.  You need to know what is going on, and you need to contribute to your online marketing message.
Why SEO?
There are three goals in website marketing: Continue reading →

Copyright protected by Digiprove © 2018 The Dental Warrior®