The One About the Broken Post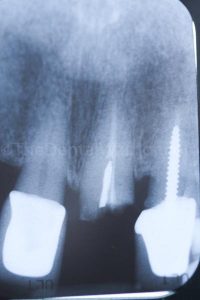 A new patient called saying a crown on her front tooth came out.  We appointed her the same day (that afternoon).  She has a current dentist, but he was on vacation, and the front desk did not offer to refer her to anyone on call.  So, she did a search on Google and found my website.  Woo-hoo!  There's a moral to that story, already eh?
Tooth #9 had snapped off at the gingival level.  Half of the post was in the root.  The other half was in the crown along with some coronal tooth structure and composite build-up.
As you can see, this was not a matter of "gluing it back on."  Though the patient had tried with superglue.  And, the patient was going on a vacation trip this weekend.  She had an existing temporary partial denture (all-acrylic with wire clasps).  So…  what options does Dr. MacGyver have?  In my opinion, the tooth is ultimately unrestorable.  There won't be enough ferrule to do a new post / core and new crown with any degree of predictability.  What can we do to give the patient her smile back?
Is there some way to put the crown back on?  Or, can we add a tooth to the partial for the time being?  Maybe even attach the crown to the partial?  Will that work?  What about just bonding / splinting it to the adjacent teeth as a "temporary bridge?"  Hmmm… bonding to porcelain is unpredictable, and this tooth will likely be under some stresses.  Wait…  what about removing the post from the tooth and picking up a new post in the existing crown and then cementing it with Temp-bond?  That might provide enough retention for a temporary solution.  Well… why not just secure a new post in the root and then retrofit the crown to a new build-up?  Use the good "permanent" stuff.  Yeah… that's the ticket!  Well…. IF I can get the post out of the root.
How are we going to do this?
Before I do all that, Continue reading →

Copyright protected by Digiprove © 2017-2018 The Dental Warrior®