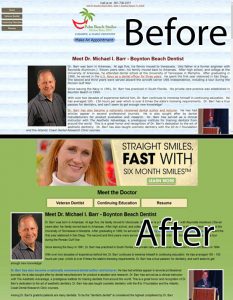 This article is a bit long.  However, I urge you to read it.  Today, your website represents your practice to the world.  Accordingly, the decision to have a website and choosing the right marketing firm to help you create it is CRITICAL.  Educate yourself and choose wisely.
In 1999, I created my own dental practice website.  I mean I did ALL of it.  A total do-it-yourself project.  I was an "early adopter" in that very few dentists had websites at the time.  Initially, my intent was to create an "online brochure" to which I could refer my existing patients in order for them to learn more about my cosmetic dental services.  At the time, the notion of people actively seeking (searching) a new dentist online seemed far-fetched.  And, in reality, nobody was.
Eighteen years later, and that's all changed now, as our culture searches for EVERYTHING on the web.  "Google" is now a verb.  We "Google" anything we need to know or find.
This is the story of how I went from a DIY website marketer to finally delegating a complete website makeover to the experts. Continue reading →

Copyright protected by Digiprove © 2017 The Dental Warrior®