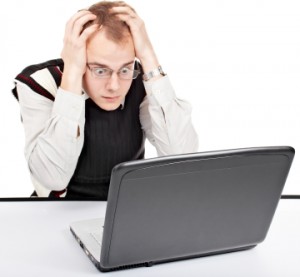 This article has been sitting in the "draft" folder for a while.  I've written, lectured, and pontificated many times about my position that dentists should be creating their own website content.  I'm not saying they need to create the actual website.  I'm talking about the CONTENT.  Content is king.  I've said it a googol times (pun intended)!
But, this article is about a different angle on content.  The reality is that most dental websites are chock-full of canned content provided by the website developer.
Most of it is harmless (and nearly useless) encyclopedic, canned content.  It's the usual, "here's what a root canal is" and "here's a cartoon drawing of an implant in your jawbone."
Besides not contributing to the content, many dentists may not even know what's in their own website.  They wanted a website and wrote a check.  They may have taken a quick look at their own site.  They probably sent a link to their friends and their moms.  They also took a quick peek and marveled at how "nice" it looks.  And, most of them DO look "nice."  They're pretty.  They have cool special effects and pleasing color schemes along with the same stock photos of that pretty blond girl.
I once found a website that had the references to the dentist… by another dentist's name!  They had the wrong name and the wrong city.  It was apparently a boilerplate site, but the website "developer" forgot to change the name and location!
But, what's REALLY in their websites?  Does the content reflect the dentist's philosophy?  Personality?  Style of practice?  Style of communication?  If the dentist actually looked at EVERY page, would he or she approve of the content?  Is it congruent with his or her practice?
Now that I've got you thinking about those seemingly benign questions… What if there was something more nefarious buried in your site?  Hiding in plain sight?  Continue reading →

Copyright protected by Digiprove © 2016 The Dental Warrior®