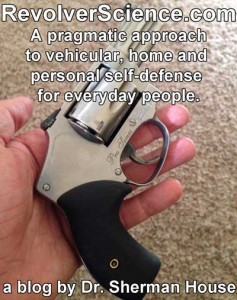 This is only the 2nd time I've posted a link to another blog article.  But, this one deserves the acknowledgement and is worthy of a hat tip!  My friend and colleague truly deserving of the term "Dental Warrior," Dr. Sherman House, has written up an excellent article about self-defense.  Be warned… it's necessarily a long article (in the spectrum of blog articles).  It's NOT an article "about guns."  It's about avoiding trouble and a defensive mindset in the context of real world threats, which come in many forms.
An excerpt and summary of what Sherman covers:
…and here is what I feel should constitute the undergraduate education of THE CIVILIAN DEFENDER:
Criminology/Street Smarts
Defensive Driving
Emergency Medical
Legal Preparation, Aftermath and Rules of Engagement
Less Lethal skills
Handgun Carry Course
Handgun Skills and Tactics Course
Defensive Tactics
It's WELL worth the 20 minutes of reading.

Copyright protected by Digiprove © 2016 The Dental Warrior®