Guns are among the categories of possessions for which good records are simply a good idea…. for a lot of reasons:
Receipts
Price paid
Serial numbers
Round count
Photos
Accessories
Maintenance
Modifications
Insurance
I've come to learn that many dentists are shooters.  If you have one or two firearms, it's fairly simple, and a manila folder is probably all you need.  But, once you become an "enthusiast" or "collector," you may want a more centralized and easily-referenced repository of information about each piece you own.
Why reinvent the wheel gun?
For a few years, I created an Excel spreadsheet that kept some of those records.  It worked decently, but it was quite basic.  Admittedly, I'm not an Excel wiz.  I wanted something more.  I searched the internet and asked on gun forums.  Most used their own homemade spreadsheets.  I found a couple of rudimentary programs that appeared to have been abandoned by the developers some time ago.
The holy accessory rail.
Then I came across "MyGunDB" (My Gun Database).  This software was designed by a young man named, Alan Ellis.  And, a fine job he has done!  But, perhaps more importantly, he updates it often.  And, he is very receptive to ideas and suggestions.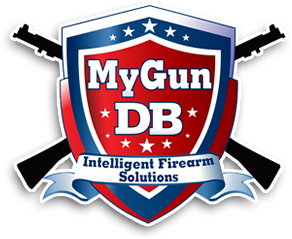 A limited version of MyGunDB can be downloaded for free.  It is fully functional but is limited to ten firearms.
A "basic" version is available for $19.95.  The basic registration disables Ammo, Maintenance and Holsters tabs, A&D reports, and limits images per firearm to 3 or less.
The full version can be had for $39.95.  It comes with all the features, and the number of firearms is unlimited.  It's a BARGAIN.  Just get the full version and be done with it.
So simple a gun nut could do it.
MyGunDB is simple enough for a budding firearms enthusiast and robust enough for someone like my friend who says, "If you can count them (your firearms), you don't have enough."   MyGunDB is so comprehensive, even a firearms dealer could use it to track inventory.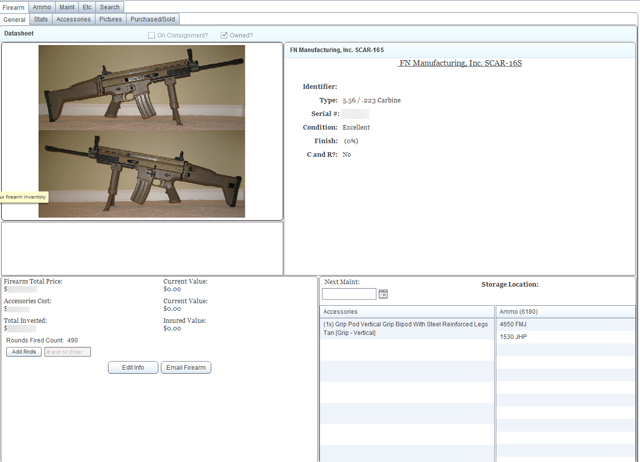 You can store as many photos of each firearm as you want.  I recommend either scanning or taking a photo of your receipts and putting them there, too.
Ammo, ammo everywhere.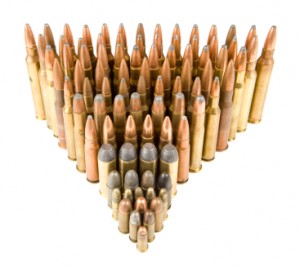 Another feature I really like is the ammo inventory.  Many of us "enthusiasts" tend to collect a fair bit of ammo, often buying bulk quantities in various calibers and types.  Is it critical to track it all?  Probably not.  But, I think it helps to know what you've got on hand.  With an easily accessible (and updated) inventory, I can see what I've got available for the next range trip.  I can also see when it's time to order more.  The ammo inventory allows for information about:  manufacturer, bullet weight, bullet type, model, and more.

You can view all your ammo, or you can limit it to the caliber related to the firearm selected.  The ammo inventory in MyGunDB has a nifty feature that allows you to simultaneously subtract ammo (as you use it) and add it to the round count of the firearm used.  You can see it at the bottom of the photo above.  That's just smart and practical!
I could go on and on, delving into all of the extensive features (some of which I have yet to explore), but it would make for a long blog post.  However, I did want to also mention that it has a backup feature.  You can back up to any place you choose (thumb drive, online back-up like Dropbox, external hard drive, etc.).  And, of course, I do recommend backing it up!
Just shoot it.
For forty bucks, this is just a no-brainer for gun owners.  MyGunDB is feature-rich, enabling you to be as detailed (or not) as you want with your records.  I've looked, and I couldn't find anything that comes anywhere close to competing with MyGunDB.  Whether you've got just a couple of plinkers or a vast collection, it just makes sense to keep good records.  The more I use it, the more I like it.  MyGunDB is THE answer to firearms record-keeping.  Visit their website at:  http://mygundb.com/.  Tell'em the Dental Warrior sent ya!

Copyright protected by Digiprove © 2013 The Dental Warrior®